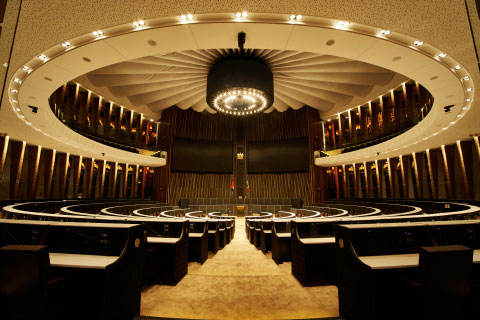 Soraa has announced that the company's VIVID lamps based on its GaN-on-GaN LED technology were chosen toilluminate the new City of Johannesburg Council Chambers in Johannesburg, South Africa.
Featuring an elegant rotunda of curved glass panes, gold glass 'fins' and clean architectural lines, the City of Johannesburg's Council Chamber is set apart from the linear buildings that surround it.
The Chambers' organic shape celebrates African principles of space, making and symbolises the City's transformation in line with the core values of transparency, accountability and accessibility. It is also the first municipal building in South Africa to be certified under the Green Star SA Public and Education Buildings (PEB) tool and the Green Star SA Socio-Economic Category (SEC) rating.
To capture the essence of what the space represents, lighting designers at SMITH.TAIT sought a solution that would accent the interior brass columns while providing general illumination to the public seating. SMITH.TAIT chose Soraa VIVID AR111 and GU10 lamps with the louver and Soraa's 25 degree beam spreader SNAPs to create the effects needed, and to allow the designers greater flexibility to nuance and adjust the lighting design on site.
"The architect's vision for this project could only be achieved using Soraa's lamps," said Rupert Tait, principal at SMITH.TAIT. "Soraa's lamps in combination with their snap accessories meant we could deliver a design well below budget, but still maintain the integrity of the architect's vision."
The Soraa Snap System is compatible with all Soraa directional lamps and fixtures. Coupled with Soraa's high brightness single source LED technology, the lighting effects are similar to halogen sources, says the company, with the added benefits of low operating temperature, ground-breaking optical design, and unique method of attachment.