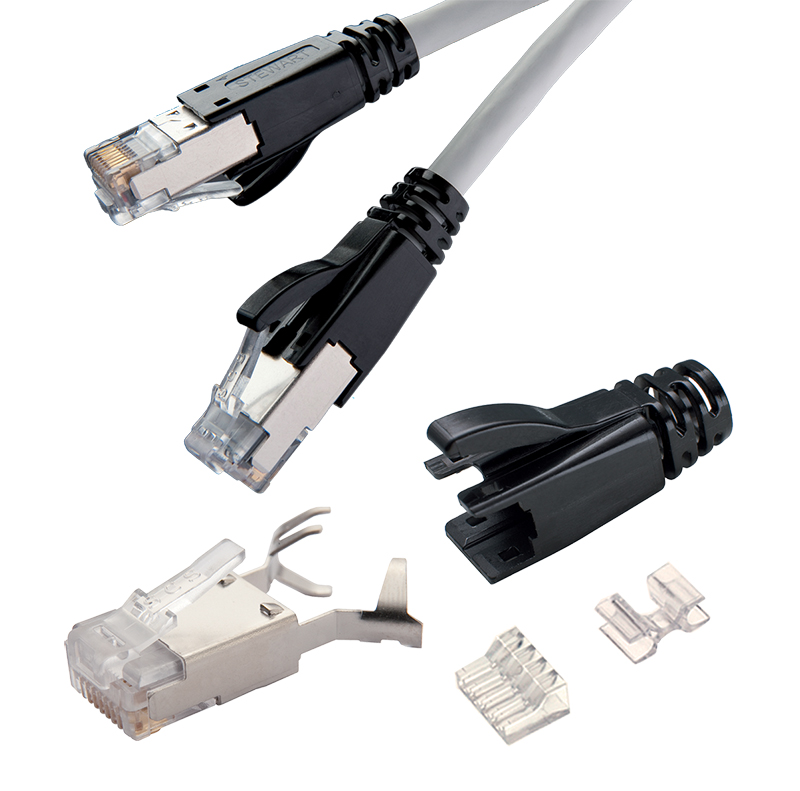 Glen Rock, PA, [June 13, 2019] Stewart Connector, a Bel group company, (NASDAQ: BELFA and BELFB) and world class manufacturer of high speed connectors used in Data Communications introduces a complete line of IP20 rated modular plugs complimenting the existing standard RJ45 modular plugs.
Stewart Connector's IP20 rated RJ45 modular plug line has been developed to bring reliable data connections to industrial environments at Gigabit Ethernet (1000Base-T) through 10 Gigabit Ethernet (10GBase-T) transfer rates while supporting Power over Ethernet (PoE) applications. The IP20 modular plugs are designed to be terminated to shielded or unshielded cable with solid or stranded conductors. Connector options are available to accommodate a wide range of overall cable (.230"-.330") and conductor diameters (.033"-.062") found on harsh environment and industrial cables. The double clamping strain relief delivers the most robust connector to cable connection available to support the conditions found in industrial environments.
Applications for Stewart's IP20 modular plug line include data, telecommunications and industrial equipment connections. The low-profile design of the modular plugs is well suited for high-density switches and routers as well as CAT5E through CAT6A premise networks. The IP20 modular plugs are installable in both field or factory environments.
Stewart Connector products are available from Digi-Key, Mouser.
For detailed product information, visit the IP20 Modular Plug Line part page here or download the datasheet.
For technical inquiries, send an email to techhelp@belf.com, or call +1 858 676 9650 for North America and Asia Pacific, +49 6172 95520 for EMEA or visit befuse.com/stewart-connector.