STMicroelectronics Boosts Automotive Innovation with Longevity Extension for Popular Body, Chassis, and Safety Microcontrollers
Availability of SPC56 automotive microcontrollers assured until at least 2034 by extension of longevity program to 20 years
Mar 10, 2021: STMicroelectronics (NYSE: STM), a global semiconductor leader serving customers across the spectrum of electronics applications, is extending its long-term commitment to support customers of the Company's SPC56 automotive microcontrollers, which are deployed in millions of powertrain, chassis, and body-electronics applications worldwide.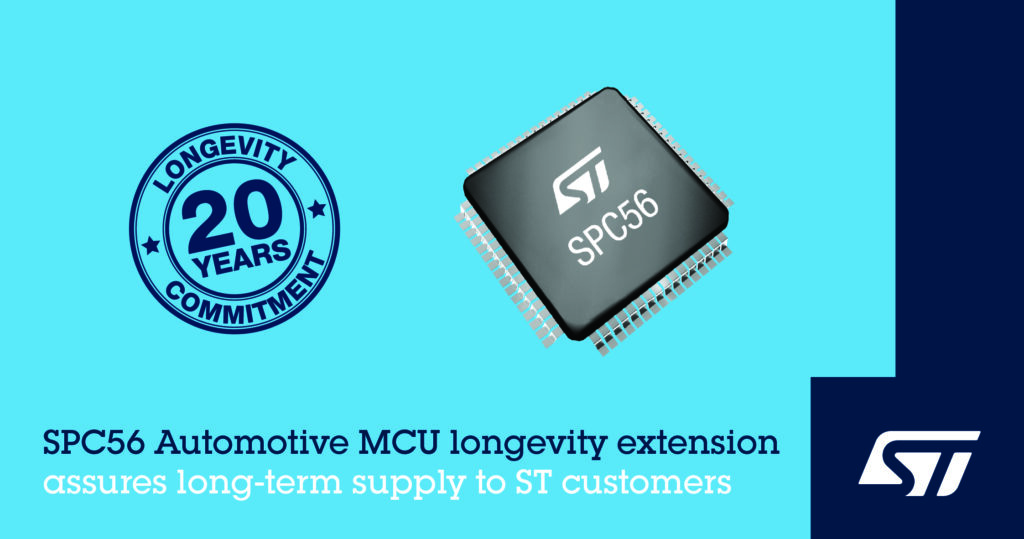 "The SPC56 series has enjoyed enduring success and it remains the go-to automotive controller for a wide range of design projects, blending performance, robustness and reliability," said Luca Rodeschini, Automotive Processing and RF Division General Manager, STMicroelectronics. "To ensure lifetime support for our customers' new applications, and those already in the market, we are today unveiling the extension to 20 years, of our unique product longevity commitment, which we launched in 2014, assuring the availability of SPC56 MCUs until at least 2034."
ST's semiconductor innovations are powering today's automotive electrification and smart-driving trends that increase economy, safety, and reliability. The Company continues to develop new and more advanced products that define the state of the art, while maintaining its lifetime commitment to meet the unique needs of customers.
Customers can extend the lifetime of their successful products and continue to count on SPC56 general-purpose and performance automotive microcontrollers for new designs, thanks to the simple porting of a consolidated design and proven software into new applications, saving development resources and costs.