The strong CAGR for automotive ICs is partly due to the fact that this market is growing from a smaller base compared to the communications, computer, and consumer segments and partly because a steady and significant increase in IC content is expected onboard all new cars—luxury level to base models—throughout the forecast period.
Over the last few years, car manufacturers have ramped up plans to install wireless communications, advanced dashboard displays, electric batteries, and autonomous driving systems in their latest vehicles. That has been music to the semiconductor industry's ears, improving the fortunes of major companies ranging from Infineon Technologies and NXP Semiconductors to Intel and Nvidia.
The market for automotive electronic systems will continue growing into the foreseeable future, according to market researcher IC Insights. Sales are projected to grow from $142 billion to $152 billion in 2018, increasing another 6.3 percent to $162 billion in 2019 as the latest technologies become more widely available onboard mid-range and lower-end vehicles and as aftermarket products, IC Insights explained.
The compound annual growth rate over the next half decade is projected to be around 6.4 percent, topping all other major end applications for semiconductors, including communications and industrial equipment. The automotive segment is forecast to account for 9.4 percent of the $1.62 trillion global market for electronic systems market this year, a slight increase from 9.1 percent last year.
The value of semiconductors embedded inside cars will increase to more than $540 per vehicle before the end of the year, up from around $380 per vehicle in 2012, according to IC Insights. Navigation, collision avoidance, backup cameras, and other systems going into the latest vehicles are using an increasing number of microcontrollers, memory chips, sensors and power management components.
Car manufacturers are expected to increase analog semiconductor spending by around 14 percent over the next year, according to IC Insights. The market for special-purpose microprocessors used in automotive applications are projected to grow 29 percent next year after jumping 45 percent the previous year. Memory chips are also playing an increasingly critical role in the latest in-vehicle systems.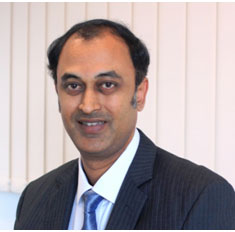 Niranjan Gundala, General Manager, Biz. Development & Technology Marketing Division (ASEAN+India), Rohm Semiconductor
Market Growth and Key Drivers
Accelerated technology development for EV and ADAS has resulted in increased number of orders and new demand for electronics. Furthermore, the shift to xEV driven by global environmental regulations has placed greater demands of higher efficiency and smaller size for automotive electronics.
In ROHM's application composition, automotive-related sector continues to grow steadily.
Technology development in automobile industry has been in response to increasing requirements for safety, comfort and environmental performance. Although the automotive industry in recent years has been undergoing rapid advancement, technological innovation in 2019 will continue to advance based on these concepts.
For example, electronics is playing an increasing role in the transition from gasoline-powered to hybrid- and electric-powered vehicles, in order to improve the environmental performance. In a broader sense, the evolution of semiconductor components will become essential to reducing energy expenditure and waste.
Automotive safety is another equally important aspect. Recently, ADAS is attracting greater attention in the automotive market. Although there are still a number of challenges that must be overcome, the day when automated driving, as seen in science fiction, becomes reality, is not far.
Advancements and New Trends
Response to "Functional Safety"
ROHM recognized the importance of "functional safety" early on.
For example, ROHM provides chipsets designed to drive and control automotive LCDs, including larger high-resolution monitors used for navigation and instrument clusters. Each IC is designed to share information as needed, achieving automotive-grade reliability and for the first time, supporting functional safety in display devices. This chipset ensures high reliability for LCD monitors used for side mirrors and speedometers.
In addition, ROHM received certification for its development process under the ISO 26262 functional safety standard for automotive products by third-party certification authority TÜV Rheinland in Germany, ahead of its competitors. As the role of electronic parts in vehicles continues to increase, ROHM is committed to manufacturing products that will contribute to safer, more environment-friendly vehicles in the future.
Power Management IC Optimized for 48V Automotive Systems such as Mild Hybrid Vehicles
ROHM has also focused on 48V mild hybrid vehicles and proceeded to product development.
For example, ROHM provides a DC/DC converter with built-in MOSFET that achieves the highest step-down ratio in the industry (at 2MHz) required for these applications. The BD9V100MUF-C integrates ultra-high-speed pulse control technology (Nano Pulse Control) created by combining proprietary circuit design and layout with original processes, enabling low voltage 2.5V output from 60V (max.) input at 2MHz (resulting in the industry's highest step-down ratio: 24:1). This makes it possible to miniaturize peripheral components while configuring voltage conversion from high to low voltages using a single IC whereas 2 or more ICs are required in conventional systems, contributing to greater miniaturization and simpler system design.
As the trend of energy conservation in all kinds of equipment has accelerated, SiC power device has shifted from introduction to full-scale adoption. Even in automotive market, SiC adoption fields, such as on-board charger and main inverter in EV, continue to expand every year.
In response, ROHM decided to construct a new building at its Apollo plant in Chikugo, Japan, for the first time in 12 years, in order to expand production capacity to meet the rising demand for SiC power devices. The company will cumulatively invest 60 billion yen by 2025 and aims for the top share in the world by expanding our production capacity.
Rohm Innovations for Automotive
With the shift to xEV due to global environmental regulations, technological innovation is accelerating and automotive electronics are required to be of higher efficiency, smaller size and higher accuracy. In addition to small signal discrete components, which ROHM has the highest market share so far, we have a lot of products for these growing fields. We believe that these fields will lead our growth and we continue to focus on them for the future.
POWER
–              Power Solution with SiC, Isolated Gate Drivers and Shunt Resistors
–              The adoption of SiC related to rapid charging systems such as on-board charger is spreading. The advantage is to be able to charge in a short time. The main focus in the future is "Inverter". SiC enables to make lithium-ion batteries or the inverter itself smaller to improve the performance of EV comprehensively.
–              IPDs: As the number of ECUs in vehicles increase, the number of in-vehicle power switch (IPD – Intelligent Power Device) products have also increased year by year. ROHM has accelerated the development of products specializing in high reliability in addition to low ON-resistance.