Tech aficionado love to talk about things ranging from processing to chips, be it from PCs or from the latest smartphones. Use of jargons and abstract-sounding ideas make difficult for tech lovers to comprehend important concepts like of system on chip (SoC). However, unnoticing stuff like this can deprive a person from making a potential purchase. This whole article promises to be beginner- friendly,explaining all the ins-and-outs of modern smartphone chips with as little technical witchcraft as possible.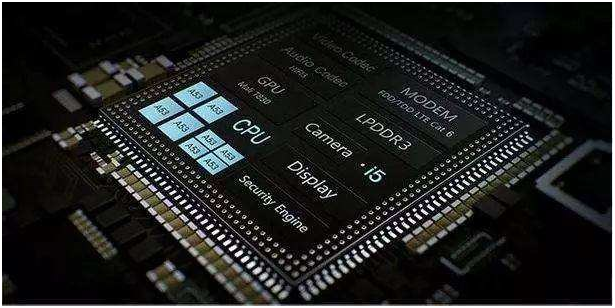 Just a straightforward meaning of System-on-chip
System on chip, generally called SoC, also called system-level chip. It is a product or an integrated circuit with a dedicated target, which contains a complete system and all the contents of embedded software.
In a narrow sense, the system on chip is the chip integration at the core of the information system, which is the integration of key components of the system on a chip while in a broad sense, SoC is a miniature system. If the central processing unit (CPU) is the brain, then the system on chip is the system that includes the brain, heart, eyes, and hands.
The academic circles at home and abroad generally tend to define SoC as the integration of microprocessor, analog IP core, digital IP core, and memory (or off-chip storage control interface) on a single chip. It is usually a standard product customized by customers or for specific purposes.
Composition of System-on-chip
The composition of the system on chip can be a system on chip control logic module, a microprocessor/microcontroller CPU core module, a digital signal processor DSP module, an embedded memory module, an interface module for communicating with the outside, and an ADC/DAC containing analog front-end module, power supply, and power management module. For a wireless SoC, there are also RF front-end modules, user-defined logic (which can be implemented by FPGA or ASIC), and a micro-electromechanical module. More importantly, anSoC chip is embedded with basic software (RDOS or COS and other application software) modules or loadable user software, etc.
Wondering about basic structure? The answer is simple.
In the application electronic system designed using SoC technology, the embedded structure can be realized very conveniently. The realization of various embedded structures is very simple, as long as you select the corresponding core according to the system needs, and then select the matching IP module according to the design requirements, you can complete the entire system hardware structure. Especially when using intelligent circuit synthesis technology, the firmware characteristics of the entire system can be more fully realized, making the system closer to the ideal design requirements. It must be pointed out that this embedded structure of SoC can greatly shorten the application system design and development cycle.
Key aspects of SoC's production process
The system on chip formation or production process includes the following three aspects:
1) Software and hardware co-design and verification based on a monolithic integrated system;
2) The use of logic area technology and the percentage of production capacity to be reused are effectively increased, that is, the development and research of IP core generation and reuse technology, especially the repetitive application of large-capacity memory modules embedded;
3) Design theory and technology of ultra-deep submicron (VDSM) and nano-integrated circuits.
The key technology of SoC design: SoC key technologies mainly include bus architecture technology, IP core reusable technology, software and hardware co-design technology, SoC verification technology, testability design technology, low-power design technology, ultra-deep sub-micron circuit implementation technology. It also includes embedded software transplantation and development research, which is a new interdisciplinary research field.

Wider designing ideas
In the traditional distributed integrated design technology, the firmware characteristics of the system are often difficult to achieve the optimal. The reason is that the distribution function of integrated technology is used. In general, in order to meet as many use areas as possible, functional integrated circuits must consider two design goals: one is to meet the functional control requirements of a variety of application areas; the other is to consider meeting a wider range of application functions and technologies index. Therefore, functional integrated circuits (that is, customized integrated circuits) must add a number of circuits in I/O and control, so that general users can get as much development performance as possible. However, it is not easy to achieve the best application electronic system of customized circuit design.
The basic design idea of using SoC technology to design and apply electronic systems is to achieve system-wide firmware integration. Users only need to select and improve each part of the module and embedded structure according to their needs to achieve fully optimized firmware features, without having to spend time familiarizing themselves with the development technology of custom circuits. The sudden advantage of the firmware foundation is that the system can be closer to the ideal system and easier to achieve design requirements.
Everything you need to know about designing
Traditional applied electronic design engineers are faced with a variety of custom integrated circuits, while electronic system design engineers using SoC technology are faced with a huge IP library, and all design work is based on IP modules. SoC technology turns an applied electronic system design engineer into an application-oriented electronic device design engineer. Hence,SoC is a design technology based on IP modules, and IP is the basis for SoC applications.
All about pros and cons of using System-on-chip
SoC has obvious advantages in terms of performance, cost, power consumption, reliability, and life cycle and scope of application, so it is an inevitable trend in the development of integrated circuit design. In the field of performance and power-sensitive terminal chips, SoC has occupied a dominant position; and its applications are expanding to a wider range. The realization of a complete electronic system on a single chip is the future development direction of the IC industry.
Like a coin has two faces, SoCs even have some disadvantages, like the initial cost of design and development is very high. Even a single transistor or system damage may prove to be very costly as the complete board has to be replaced which will obviously lay unnecessary costs on the users. Adding on, one cannot replace a particular device from this highly integrated complex device, one has to replace the whole SoC to make changes.
Challenges to industries
The current chip design industry is facing a series of challenges. System on Chip has become the focus of the IC design industry. SoC performance is getting stronger and bigger. The scale of SoC chips is generally much larger than that of ordinary ASICs. At the same time, the complexity of SoC design is greatly increased due to design difficulties caused by deep sub-micron processes. In SoC design, simulation and verification are the most complex and time-consuming links in the SoC design process, accounting for about 50% to 80% of the entire chip development cycle. The so-called SoC technology is a highly integrated, firmware-based system integration technology. The core idea of using SoC technology to design a system is to integrate the entire application electronic system into one chip. When designing an application system using SoC technology, all the system circuits are integrated together except those external circuits or mechanical parts that cannot be integrated.