RF filters are a key part of RF design as the filters enable the required signals to be selected and unwanted ones removed.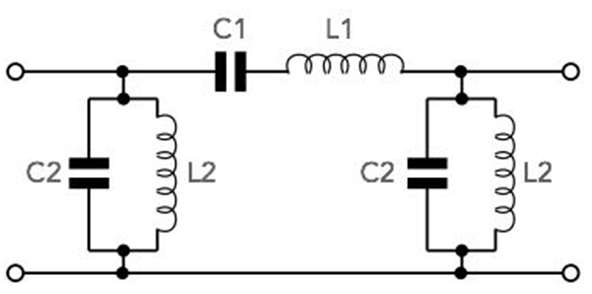 It is an electronic component that is used to allow or block selected signals or frequencies to eliminate noise or pass-through of unwanted signals.
The RF filter is defined as passing radio frequencies within the desired band and blocking the undesired or unwanted radio frequencies in a wireless communication chain.
These filters have various types based on the requirement. Such as in the RF up-conversion chain below, used to convert 70 MHz IF input to 6GHz RF output filters is employed as per need in the design.
As shown below figure the input is 52-88 MHz low pass filter is used using discrete components.
The low pass filter frequency is mixed with a local oscillator frequency of 1112.5 MHz and generates a new output signal 1182.5 MHz.
After the first mixer BPF (band pass filter) new output signal is 1182.5 MHz with a bandwidth of 36MHz employed.
Then the second stage of mixing, a 5925 to 6425 MHz microstrip-based parallel coupled band pass filter is incorporated.

There are two types of RF filter.

Low pass Filter
High pass Filter
Low Pass Filter:
It is the type of frequency domain filter that is used for smoothing the image. It attenuates the high-frequency components and preserves the low-frequency components.
High Pass Filter:
It is the type of frequency domain filter that is used for sharpening the image. It attenuates the low-frequency components and preserves the high-frequency components.
Applications of RF & Microwave Filters
RF filter is used in broadcast receivers to select desired channel frequency and reject all the other frequency channels.
It is used in image frequency rejection in radio and TV receivers as well as satellite receivers.
The RF filters are also used in multi-way loudspeakers.
This filter is used for noise reduction.
They are also used to stop LO leakage in RF transceiver designs.