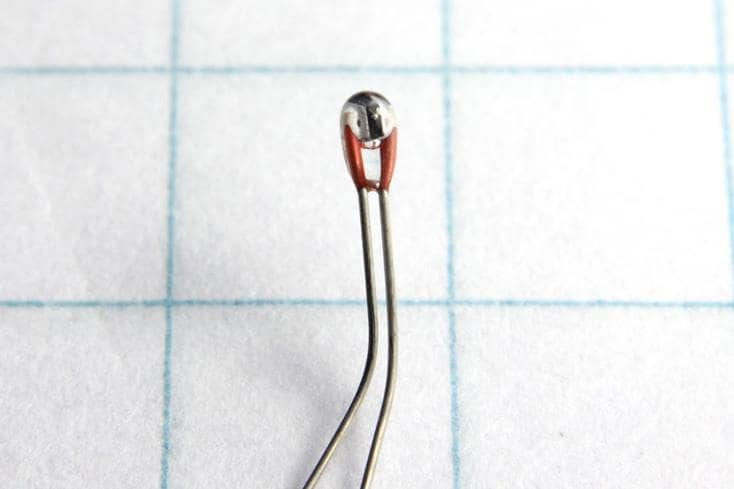 Simply put, thermistors are resistors whose resistance varies with temperature. The term thermistor is, in fact, a portmanteau of "thermal resistor." These devices come in two main varieties based on whether their resistance decreases or increases with temperature. Those that decrease are known as negative temperature coefficient (NTC) thermistors, while those that increase are positive temperature coefficient (PTC) thermistors.
Our Top Five Thermistor Choices
You're more likely to see NTCs in use than PTCs, though both types have useful applications. They are both commonly coded according to the resistance they display at 25°C. For example:
– A 10k NTC thermistor displays 10k ohm resistance at 25°C and has a negative relationship between temperature and resistance.
– A 100k PTC thermistor displays 100k ohm resistance at 25°C and has a positive temperature-resistance relationship.
If you're shopping for a thermistor for your next project, consider your requirements in the following areas:
1. Temperature range. In what temperatures will your device need to operate? Consider minimum and maximum, as well as fluctuation response time.
2. Precision. Will your measurements be fine or broad, and what margin of error is acceptable?
3. Intended Use. Your device's use may also affect whether a PTC or NTC thermistor is a better fit.
Recommendations
Here are five of our favorite thermistors on the market right now:
1. Precision Thermistor Choice: PR203J2
Developed by Littelfuse, this is a super-precise 20k NTC thermistor. It offers accuracy to within an impressive ±0.05°C. Its resistance range is 6,000k to 25,000k and users deploy it primarily for temperature sensing.
2. 10k Thermistor Choice: NTC0805J10K
This surface-mounted 10k NTC thermistor offers ±5 percent accuracy with a broad operating temperature range of -55 to +125°C. It's intended for use in temperature compensating applications.
3. PTC Thermistor Choice: B59219J130A20
A PTC thermistor's primary application is to limit incoming current by increasing resistance as the resistor heats up. This model from Epcos is perfect for this type of application, and it boasts the following features:
– Maximum voltage rating of 800VDC
– 100-ohm resistance at 25°C
– Maximum resistance of 300 ohms
– Broad operating temperature range of -40 to +125°C.
4. Thermistor Probe Choice: TO103J2J
This model is another 10k NTC thermistor, but this probe-style component is appropriate for use as a resistance thermometer. It's effective in a wide variety of temperature-sensing applications, and it has an operating range of -55 to +150°C.
5. 100k Thermistor Choice: 104RG1J
A high-resistance thermistor with an exceptional operating temperature range, this model from Littelfuse offers 100,000 ohms of resistance at 25°C. It can also function in environments from -55 to +220°C. This NTC thermistor has a resistance range of 25k to 120k ohms.
Summary
We can employ thermistors in a wide range of applications, ranging from sensing temperature to limiting current inrush and ensuring a constant temperature at a heat source (such as the hot end of 3D printers). Regardless of your application, shop our many thermistor options to ensure that you have the perfect component for your project.