Toshiba Electronic Devices & Storage Corp (TDSC) – spun off from Toshiba Corp in July – has enhanced its diode portfolio with the addition of six Schottky barrier diodes (SBDs) fabricated with silicon carbide (SiC) and housed in surface-mount packages (shipping in volume now).
Up to now, TDSC has focused on SiC SBDs in through-hole packages. The addition of its first SiC SBDs in DPAK surface-mount packages meets what the firm says are customer requirements to reduce system size and thickness.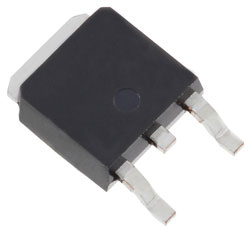 The new SiC SBDs incorporate Toshiba's latest second-generation chip, which delivers improvements in both surge peak forward current IFSM (to about 7-9.5 times the current rating, IF(DC))and in figure of merit VFxQc (to about 1/3 lower than first-generation products, indicating high efficiency). The devices offer enhanced ruggedness and low loss, which helps to improve system efficiency and simplify thermal design.
The new SiC SBDs are suitable for a wide range of commercial and industrial applications, including:
power factor correction (PFC) circuitry for high-efficiency power supplies, micro inverter circuits, chopper circuits (various power supplies of hundreds of watts or more), and free-wheel diodes for switching devices;
consumer products and OA equipment: power supplies for large-screen 4K LCD and OLED TV sets, projectors, multi-function copiers, etc; and
industrial equipment: power supplies for telecom base stations, PC servers, solar micro-inverters, etc.
TDSC says that it will continue to expand its product portfolio in order to help improve the efficiency and reduce the size of communications equipment, servers, inverters and other products.