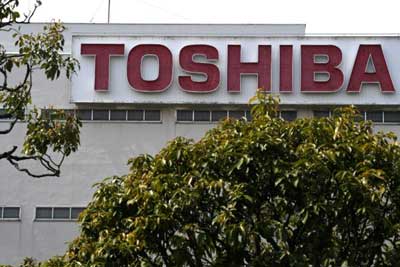 Toshiba stocks surged on Friday as Japanese media said around 10 companies and funds, including Apple, are bidding for its memory chip business, a day after shareholders approved the spin-off plan.
The Tokyo-listed firm surged almost 10 percent before ending the day at 241.4 yen, up 5.78 percent.
Japan's top Nikkei business daily said the first round of bidding had been completed.
US private-equity firm Silver Lake Partners and American chipmaker Broadcom have apparently tendered bids of roughly 2 trillion yen ($17.9 billion), it said.
The mass circulation Yomiuri Shimbun, Japan's top-selling daily, said about 10 companies, including Apple, made bids for the chip business, citing unnamed sources familiar with the matter.
Toshiba will start negotiating with individual candidates next month, the Nikkei said.
It added that any foreign buyer would need to pass a Japanese government review, given concerns about security around systems already using Toshiba's memory chips.
A company spokesman declined comment.
The stories came a day after angry investors lambasted Toshiba executives at a shareholder meeting over its warning that annual losses could balloon to more than $9.0 billion.
The red ink is largely tied to huge cost overruns and construction delays at its US nuclear power unit Westinghouse Electric, which filed for bankruptcy protection this week.
Still, investors agreed to the sale of the memory chip business, the jewel in the Japanese giant's crown.
The sale is seen as key for the cash-strapped firm's turnaround, although there are questions about its future without the business.
Toshiba is the world's number two supplier of memory chips for smartphones and computers, behind South Korea's Samsung, and the business accounted for about a quarter of its 5.67 trillion yen in revenue last fiscal year.
"Short-term investors trying to take advantage of price volatility are looking at Toshiba," said Makoto Sengoku, market analyst at Tokai Tokyo Research Institute.
"The semiconductor business has been a driver of its earnings. Without that, can it really revive itself?"