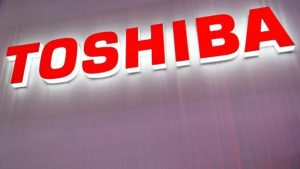 TOKYO– Toshiba Corp. said Wednesday it was weighing a spinoff of its profitable semiconductor unit, a plan that could help it raise cash in response to a multibillion-dollar write-down at its nuclear business.
A spinoff and fresh capital would help the unit compete with Samsung Electronics Co. in an industry where billions of dollars in investment are needed every year to stay abreast of technological changes.
A decision could come as early as Friday when Toshiba plans to brief its banks on how much the nuclear troubles will cost, two people familiar with the matter said. A Toshiba statement, responding to reports in local media including the Nikkei newspaper about the possible spinoff, said the plan was at an advanced stage of deliberation but no final decisions have been made.
Toshiba shares closed 2.4% higher in Tokyo trading Wednesday.
After an accounting scandal in 2015 that led to the resignations of top management, Toshiba plunged back into crisis last month when it said cost overruns at U.S. nuclear projects undertaken by its Westinghouse Electric unit and a troubled acquisition there would likely to lead to a multibillion-dollar write-down.
Semiconductors are one of Toshiba's two core businesses alongside the nuclear operations. Manufacturing flash memory chips is a volatile but growing industry because many device makers are switching to them for storage in place of traditional hard disk drives.
Market leader Samsung had a 35% flash memory market share in terms of revenue as of the second quarter last year, according to research firm IHS Markit, while Toshiba was in second place with 20%.
Toshiba plans to invest Yen860 billion ($7.6 billion) by March 2019 in the business, in addition to getting help from its partner, Western Digital Corp., which on its own has the third-largest market share of 15%. Toshiba and Western Digital have a flash-memory manufacturing joint venture in Japan.
The people familiar with the matter said business partners and suppliers could take a stake in the semiconductor unit. They said Western Digital was a potential investor and listing the business was an option as well. Western Digital didn't return a call seeking a comment.
Toshiba booked a loss of Yen250 billion last year on its nuclear plant business, and the troubles have made its financial standing more fragile, IHS analyst Satoru Oyama said.
Analysts have long suggested that spinning off the semiconductor unit could help maximize its potential and prevent it from being tied down by Toshiba's other troubles. But company executives have expressed caution about letting Toshiba's technology fall into foreign hands.
Instead, Toshiba sold other promising divisions last year to raise cash, most prominently a medical unit that makes magnetic resonance imaging machines and other scanners. Canon Inc. bought the unit for Yen665.5 billion.
Toshiba's storage and electronics devices solutions business, which includes semiconductors, posted an operating profit of Yen78 billion in the six months through Sept. 30, 2016, more than double the year-earlier figure.
It is hard for Toshiba to tap public markets for funds because the accounting scandal, in which it admitted padding profits for years, put it on the Tokyo Stock Exchange's watch list.
The Japanese government and banks have expressed readiness to support Toshiba, in part because its nuclear and defense units are connected to national-security concerns. Spinning off the semiconductor unit could help Toshiba persuade its banks that it is serious about restructuring.