Toyoda Gosei Co Ltd of Kiyosu, Aichi Prefecture, Japan is to begin sales of its glass-encapsulated ultraviolet LED products developed in March 2016 for use as an industrial light source in the curing of resins, ink and adhesives.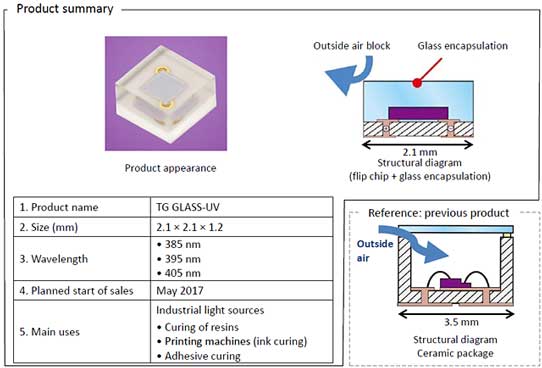 The firm says that the new UV LEDs maintain good reliability in high-temperature, high-humidity environments due to complete encapsulation of the LED chip in glass, minimizing the impact of gas penetration and moisture on the die. Also, an improved crystal structure boosts the light output per LED die, while the use of flip-chip technology (directly connecting the LED die to the substrate) results in smaller product size.
With these improvements, the new glass-encapsulated UV-LEDs achieve light output per unit area of 200mW/mm2, more than twice that of previous products.
The new UV LEDs are being displayed at the Optics & Photonics International Exhibition (OPIE '17) in Yokohama, Japan (19-21 April).