Combines u-blox ZED-F9R / NEO-D9S high-precision GNSS modules with Tallysman's Accutenna Technology and XF filtering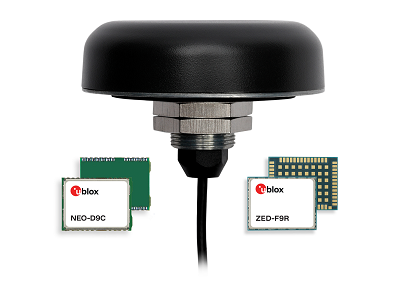 Thalwil, Switzerland, and Ottawa, Canada – June 1, 2023 – u-blox (SIX:UBXN), a global provider of leading positioning and wireless communication technologies and services, and Tallysman Wireless Inc., a leading global manufacturer of GNSS antenna and RF solutions, today announce that they have signed a design partner agreement for the development of next generation PointPerfect PPP-RTK augmented smart antennas. The PointPerfect GNSS augmentation service is now available in North America, Europe, and parts of Asia Pacific.
The agreement between the two companies will see both the u-blox ZED-F9R high-precision GNSS and the NEO-D9S L-band receivers integrated with Tallysman's industry leading Accutenna technology. This integration together with u-blox PointPerfect augmentation service will provide unprecedented accuracy and precision.
"The TW5390 solution offers users high-precision with rapid convergence times, access to precise, reliable, and easy to use PointPerfect PPP-RTK GNSS augmentation data. The result is centimeter-level accuracy in seconds on a continental scale for exceptional precision," said Christopher Russell, Tallysman Vice President of Sales. "Tallysman and u-blox bring a true out-of-the-box solution, removing the work of integrating best-in-breed antenna and receiver technologies, so our mutual customers can focus on their end applications".
The multi-band (L1/L2 or L1/L5) architecture removes ionospheric errors, and the multi-stage enhanced XF filtering improves noise immunity while relying on the dual feed Tallysman Accutenna element mitigates multi-path signal interference rejection. Some versions of the smart antenna solutions include an inertial measurement unit (dead reckoning) and an integrated L-band corrections receiver to ensure operation beyond terrestrial network reach.
"Tallysman and u-blox offer a turnkey silicon-to-cloud solution since PointPerfect is already pre-integrated with u-blox ZED-F9R and NEO-D9S high-precision GNSS modules. Our intuitive cloud platform provides a self-serve environment from which users have autonomy to manage IoT device fleets. This eliminates complexities and allows users to engage more efficiently and reduce time-to-market," said Franco de Lorenzo, Principal Product Owner, Services at u-blox. "We look forward to working with Tallysman and bringing new combined smart antenna solutions to market, supporting our complementary customer base".
To learn more about Tallysman + u-blox high-precision smart antenna solutions, visit product pages here: https://www.digikey.com/en/products/detail/tallysman-wireless-inc/33-TP5390SDK-0/16749434