AIHUG series Ultrasonic mist humidifier adopts an integrated mist module inside. The chip is replaceable. The diameter of fog output is only1-10u. Maximum relative humidity reaches 99%.
If indoor air is dry, you can add moisture using a portable humidifier. Two types of portable cool-mist humidifiers are: ultrasonic and evaporative. Each has significant differences in how they produce moisture.
Intelligent control, accurate humidity control: Humidity control system with imported world leading probe. The control precision is within 5%.
Easy to move, convenient to install.
Able to move, and able to be mounted on the external wall. Both automatic and manual humidity control are available.
Key Features
Ultrasonic Humidifier
An ultrasonic humidifier uses high-frequency sound vibrations to produce an extra-fine water mist that is then expelled to add moisture to the room.
It's quieter than the following type.
The ultrasonic generally has no filter factored into its design, which saves operation costs.
This type of humidifier is considered safer since there is no hot water present in the unit and therefore no risk of scalding.
However, as with any humidifier that does not boil the water to produce a mist, there is a risk of bacteria being present in it and being discharged to the room.2
Therefore, disinfecting the humidifier becomes even more important than with a warm mist humidifier that does boil the water.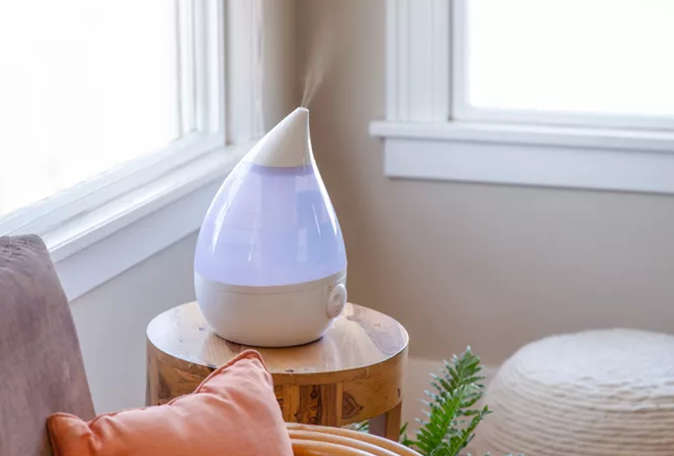 Evaporative Humidifier
Evaporative humidifiers have been in use for decades and are considered the most common humidifying appliance.
The most basic way to humidify a room is to place a pot or jar of water in the room and allow the moisture to naturally evaporate into the air to relieve dryness.
An evaporative humidifier works on basically the same principle, but it uses a fan to speed up the evaporation of water and increase humidity in a room.
The built-in fan draws in air that blows through a moist wick filter at the bottom of the humidifier. As the water evaporates into vapor, it's pushed out as water mist or spray into the air to increase humidity.