For first-quarter 2017, epitaxial deposition and process equipment maker Veeco Instruments Inc of Plainview, NY, USA has reported revenue of $94.4m, rebounding further from $93.6m last quarter and up 21% on $78m a year ago. This is above the seasonal average, reflecting the ongoing recovery in LED industry conditions (as evidence by customer utilization rates rising in recent months).
The Lighting, Display & Power Electronics segment – primarily metal-organic chemical vapor deposition (MOCVD) systems – grew by 39% from last quarter (rebounding from 42% to 58% of total revenue, compared with just 29% a year ago). This was driven mostly by sales of EPIK MOCVD reactors to support ongoing demand for blue LED applications. In addition, demand for red, orange and yellow (R-O-Y) LEDs drove an increase in K475i product sales. Also, sales of Precision Surface Processing (PSP) systems to LED makers represented a record.
The Advanced Packaging, MEMS & RF segment fell back from 17% to 12% of total revenue, reflecting lower sales for advanced packaging applications.
Revenue from Foundational Businesses fell back from last quarter's exceptional $39m to $29m (from 41% of total revenue to 30%). This consisted of the Scientific & Industrial sector falling from 28% of total revenue last quarter (which had been boosted by shipments of MBE systems for high-power laser diode applications) to a more normal 16%, while the Data Storage sector rose slightly from 13% to 15%.
On a geographic basis, China rose to 43% of revenue (driven by demand from LED makers), Europe, the Middle-East & Africa (EMEA) was unchanged at 23%, while the USA declined to 18% and the rest of the world to 16%.
Gross margin has fallen from 39.2% last quarter to 37% (below the targeted 38-40%), impacted 1-1.5 percentage points by a less favorable product mix (shipping an old model MaxBright MOCVD system from inventory for a customer not yet prepared to transition to the EPIK system) plus another 1-1.5 percentage points by temporary duplicate costs associated with manufacturing consolidation efforts (Veeco began renovating its New Jersey facility in second-half 2016 to combine manufacturing operations for ion beam, optical, and other components). "We have been incurring duplicate cost to maintain existing operations and resources until the new facility is fully functional," explains chief financial officer Sam Maheshwari. Veeco expected this to be completed in Q1, but the permit process and construction activities have taken about three months longer than anticipated.
"We maintained strong expense discipline, which helped to offset the temporary gross margin pressure," says Maheshwari. Operating expenses (OpEx) have been cut from $38m a year ago and $33m last quarter to below the projected $31-32m, due to R&D expenses reducing from $17.2m last quarter to $14.6m.
Net income has fallen slightly from $3.8m last quarter to $3.6m ($0.09 per diluted share), but this is still a big improvement on a loss of $5.7m a year ago. It is also above the midpoint of the forecasted $0-6m ($0.00-0.16 per share), despite a $0.05 per share impact due to a pre-tax interest expense from January's public offering of senior convertible notes (due 2023).
Adjusted earnings before interest, taxes, depreciation and amortization (EBITDA) was $7.3m, up from $6.2m last quarter and an improvement on -$2.1m a year ago.
Cash flow generated from operations was $6.3m, up from just $0.4m last quarter and much better than cash burn of $19m a year ago. During the quarter, cash and short-term investments rose by $2m to $682m, excluding the $336m in net proceeds from January's public offering of 2023 convertible notes.
During the quarter, inventory was reduced by $12m as Veeco continued to ship MOCVD systems (including the older MaxBright model). Days of inventory hence improved from 134 days to 107 days.
Order bookings totaled $107m (exceeding $100m for the third consecutive quarter). For a seasonally weak quarter, the drop of $20m from last quarter's $127m was moderate, considering the unusually strong Q4/2016, which included Veeco's largest ever order – of MOCVD and PSP systems for Germany's Osram Opto Semiconductors GmbH (to be shipped mostly in second-half 2017).
Although bookings for Lighting, Display & Power Electronics correspondingly fell, orders were received for multiple MOCVD systems from Chinese LED makers. "We continue to see positive momentum in the space and have a healthy sales funnel," notes Maheshwari.
Bookings for Advanced Packaging and MEMS rose, offsetting fewer RF capacity orders. "We have continued to see incremental opportunities in advanced packaging supported by the versatility of our PSP products," says Maheshwari.
Bookings for Foundational Businesses were relatively stable quarter-over-quarter, aided by slightly increased orders for Data Storage.
As planned, order backlog has built up further, by $12m to $221m, but a disproportionate amount is not expected to ship until second-half 2017.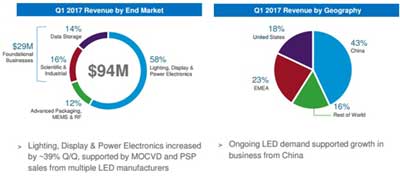 For second-quarter 2017, Veeco expects revenue of $85-100m. Gross margin should be 38-40%, after the temporary impact of about 1 percentage point due to manufacturing consolidation activity. OpEx should be $31-33m. Earnings are expected to range between a loss of $2m (-$0.05 per share) and income of $4m (+$0.09 per share), including the impact of a pre-tax interest expense of $2m ($0.06 per share) from the 2023 convertible notes. Adjusted EBITDA should be $4-10m. Order bookings will rebound after the weak first quarter.
"We are continuing to build backlog and see a healthy sales pipeline, which supports top-line growth in the second half of 2017," says chairman & CEO John R. Peeler. "Revenue will be more geographically diverse than the first half as we start to shift down some of the backlog that we continue to build."
Veeco's manufacturing consolidation should be completed in third-quarter 2017. "Our consolidation efforts, combined with sustained cost discipline, will drive positive operating leverage as revenues scale," Peeler believes.
With gross margin expected to scale up with revenue in second-half 2017, Veeco therefore continues to target full-year gross margin of 40% or more. OpEx is still targeted to be $130m annually ($32.5m per quarter). "In the last two quarters and in the Q2 guide as well as Q1, we're a little bit less than that, but I think it's going to go back up to those levels on a go-forward basis [in second-half 2017, as revenue grows]," says Maheshwari.
In the coming months, Veeco plans to launch a new GaN MOCVD system for blue LEDs targeting the lighting market. "This product is based on the EPIK reactor technology [launched in late 2014]," Peeler claims. "We're already seeing strong customer pull for the new system, which is expected to further enhance cost of ownership," he adds. "It will have better economics than older tools, so it will put us one step closer to a more meaningful retirement cycle. Anything that was made before 2008 is really not viable, so we have seen customers taking older units out of service… But it's going to take a little while longer before we get to the real mass-deployment cycle of 2010 and 2011 replacement."
Finally, in early February, Veeco announced an agreement to acquire Ultratech Inc of San Jose, CA, USA (which makes lithography, laser-processing and inspection systems for advanced packaging, semiconductor and LED applications) for $815m. The acquisition "increases our scale, diversifies our revenue, and dramatically expands our presence in the advanced packaging market," comments Peeler. "We are pleased with the progress we've made towards completing the Ultratech acquisition. Our integration planning efforts are well underway, with both teams working closely together to hit the ground running on day one. We've made tremendous progress in developing plans to integrate processes and systems," he adds. "We've already made progress in identifying new opportunities to leverage our complementary technology, market, and geographic strengths," Peeler continues. "We've cleared all regulatory hurdles and expect the transaction to close in late May, with Ultratech's shareholder meeting scheduled for 25 May."