For second-quarter 2017, epitaxial deposition and process equipment maker Veeco Instruments Inc of Plainview, NY, USA has reported revenue of $115.1m, up 22% on $94.4m last quarter and up 53% on $75.3m a year ago.
However, this includes $24m from about one month of business from Ultratech Inc of San Jose, CA, USA (which designs and makes lithography, laser-processing and inspection systems for the advanced packaging, front-end semiconductor and LED markets), which was acquired on 26 May. Ultratech's main businesses address the advanced packaging lithography and semiconductor laser annealing markets, both of which are highly complementary to Veeco.
Excluding Ultratech, revenue was $91m, down 3.6% on $94.4m last quarter but up 21% on $75.3m a year ago, driven primarily by strong sales of metal-organic chemical vapor deposition (MOCVD) and Precision Surface Processing (PSP) systems into lighting, display and power electronics markets as well as greater demand for data storage solutions from the scientific and industrial market.
The Lighting, Display & Power Electronics segment contributed $56.2m (49% of overall revenue) driven by the continued shipment of systems to China, Southeast Asia and Europe.
The Advanced Packaging, MEMS & RF segment almost doubled from $11.6m last quarter to $21.4m (19% of overall revenue), driven by Ultratech sales in advanced packaging and PSP sales for MEMS applications.
The Scientific & Industrial segment was steady at $27m (23% of overall revenue), supported by shipments of AVE systems for optical and data storage application as well as shipments of molecular beam epitaxy (MBE) systems.
Formerly part of the Scientific & Industrial segment (before the Ultratech acquisition), the Front-end Semiconductor segment contributed $10.4m (9% of overall revenue), driven by the shipment of laser annealing systems.
Geographically, the concentration on China fell back to 23% of total revenue (after a surge to 43% last quarter driven by MOCVD demand from LED makers) and Europe, the Middle-East & Africa (EMEA) fell to 16% while the USA was unchanged at 18%, as the rest of the world rose to 43%.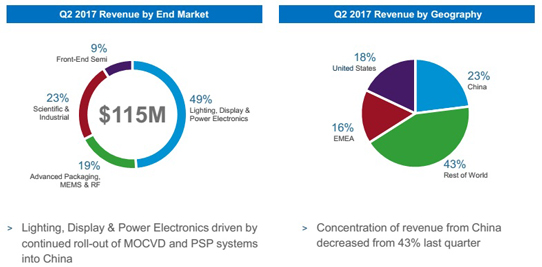 On a non-GAAP basis, gross margin was 40.6%, up from 37% last quarter, driven largely by better performance in the MOCVD and MBE product lines. Excluding Ultratech, gross margin was 40.1% (just exceeding the expected 38-40%), down from 42.4% a year ago.
Operating expenditure (OpEx) was $37.2m, up $6.7m sequentially, reflecting the additional expenses from Ultratech's partial quarter. Excluding Ultratech, OpEx was $32.1m, cut from $38m a year ago.
Operating income was $9.6m, compared with a loss of $6.2m a year ago. Net income was $6.4m ($0.15 per share, above the $0.09 upper limit of the guidance range), improving from $3.6m ($0.09 per diluted share) last quarter and a loss of $7.6m ($0.19 per share) a year ago.
Adjusted earnings before interest, taxes, depreciation and amortization (EBITDA) was $12.8m (above the expected $4-10m), improving on $7.3m last quarter and a loss of $2.8m a year ago.
During the quarter, cash and short-term investments fell by $379m from $682m to $303m, reflecting $378m of net cash used in the Ultratech acquisition.
Order bookings were $123m or, excluding Ultratech, $110m (up on $107m last quarter), with continued positive momentum across many of the firm's businesses. The Lighting, Display & Power Electronics segment received multiple systems orders from Chinese and European LED makers. The Advanced Packaging, MEMS & RF segment won repeat PSP orders from a European sensor manufacturer and repeat advanced packaging lithography orders in support of customers' wafer-level packaging and copper pillar applications. Scientific & Industrial segment orders were up, driven by Ultratech's ALD systems and technology buys from data storage customers.
During the quarter, order backlog rose from $221m to $270m, up by $48m ($30m of which is due to Ultratech).
For third-quarter 2017, Veeco expects revenue of $125-145m, lower than previously expected due to two main causes.
Not included are shipments in Q3 to multiple customer of several systems of the firm's soon-to-be-launched high-productivity EPIK MOCVD system (which doubles the capacity of the existing EPIK 700 by doubling the number of reactor modules to four), for which $20-25m will only be recognized as deferred revenue after the tools are installed and the customers place them into production (expected in early 2018).
Veeco has seen a temporary pause in the advanced packaging market over the last few months that has resulted in several Ultratech lithography tool shipments being pushed out of Q3, reducing revenue by about $15m.
Gross margin should be 39-41%. Operating expenses are expected to be $49-51m. In Q3, Veeco is already realizing $2m of early OpEx synergies from Ultratech (offset somewhat by elevated spending levels to drive integration efforts). Operating income is expected to be $0-9m. Net income should range between a loss of $4m ($0.09 per share) and a profit of $5m ($0.09 per share).
"LED industry conditions continue to improve, and we believe we can achieve a stronger second half of 2017," says chairman & CEO John R. Peeler.
"In addition, the integration of Ultratech is proceeding well and we are very optimistic about the potential synergies in both revenue and costs," he adds.
Veeco has now increased its targets for revenue synergies from $10m to $15m (to be realized by end-December 2018) and for cost reductions from $10m to $23m. All of this is expected to generate $30m in annualized operating income synergies by the end of calendar 2018. Over the next 12-18 months, the firm expects to reduce OpEx by $15m through rationalization of field infrastructure, ERP (enterprise resource planning) conversion, material cost reductions, and focused R&D projects. On top of the $30m in operating income synergies, Veeco believes that there is an additional $10m of annual synergies in stock-based compensation compared with the historical levels of Ultratech.