A vehicle-to-grid (V2G) system enables the flow of power between an electric system or grid and electric drive vehicles such as BEVs, PHEVs, or FCVs. These systems also provide a network to help the owner communicate with the power grid. The V2G technology provides demand response services to the power grid, enhancing the efficiency of the system during heavy loads.
Smart grid is defined as the overlaying of a unified communications and control system onto the existing power delivery infrastructure to provide the right information and the right entity at the right time. It helps even out demand spikes and uses resource mix more efficiently. It is a better integration, or "system balancing," of variable resources, like wind power. Many of the advanced applications of smart grid are expected to develop in an evolutionary manner based on current technologies available and the needs of the market, for example, electric vehicles (EVs) or plug-in hybrid electric vehicles (PHEVs). It is likely that we will see a simpler associated application (i.e., smart battery charger) before the market matures to support a more complex form of the application vehicle-to-grid (V2G). The objective of this paper is to develop a technology road mapping (TRM) process for smart electric V2G technologies in Oregon and the Pacific Northwest (PNW). The research focuses on the application of V2G in the residential chargers. It introduces the market drivers, products, and technology analysis and also provides research on the necessary resources needed within R&D in the coming years (next 10 years).
Smart grid
A smart grid is an electricity network that incorporates a suite of information, communication, and other advanced technologies to monitor and manage the transport of electricity from all generation sources to meet the varying electricity demands of end users. Smart grids allow for better coordination of the needs and capabilities of all generators, grid operators, end users, and electricity market stakeholders in operating all parts of the system as efficiently as possible, minimizing costs and environmental impacts while maximizing system reliability, resilience, and stability.
How does a Vehicle-to-Grid System Work?

Vehicle-to-grid (V2G) describes a system in which there is reciprocal, bi-directional electrical energy flow between plug-in electric vehicles, such as electric cars (BEV) and plug-in hybrids (PHEV), and the power grid. This is done through selling demand response services by throttling the charge rate or returning electricity to the grid.
Studies show that most vehicles aren't typically in use for up to 95% of the time so owning an electric vehicle is an untapped power source that many people have yet to explore. BEVs tend to have the highest capacity on board storage system and when the grid requires energy, the power flows in the opposite direction to support things like peak hours or spinning reserves.
Other types of V2G technology consists of load-sharing sources with the power grid. This can include subsets of V2G like vehicle-to-home (V2H) and vehicle-to-building (V2B), both of which draw power directly from the EV rather than through the power grid.
The power generated from various sources such as renewable energy sources (wind, solar, hydro) and thermal power plants flows in one direction into the system, and is distributed through the grid. This power is used to charge EVs at home, in the workplace, or at dedicated charging stations.
The battery power of EVs is utilized to feed the system during peak electric demands, allowing a two-way flow system between the grid and the EV.
The independent system operator (ISO) functions as a central control system to facilitate communication between an EV and the grid. The ISO emits control signals in the form of broadcast radio signals, cell phone networks, or through power line carriers.
The three basic requirements of the V2G technology have been represented in the chart below: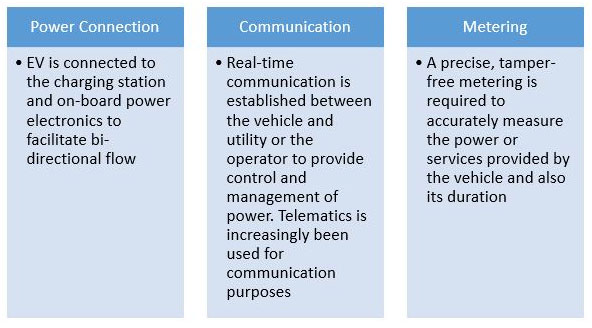 How does this V2G technology benefit me?
We're hurtling towards a place where 'two-way' electric car chargers can enable homeowners with electric cars to sell their energy back to the national network. It's a smart idea when you consider that over 90% of cars are parked at any one time2 – which is a lot of energy just sitting there doing nothing. This technology will give you the opportunity to manage your energy your way, and potentially become energy self-sufficient, reducing everyone's reliance on energy companies. Get solar panels fitted, then adopt vehicle to grid technology and your home could become a private mini-power station!
The Latest in Vehicle to Grid (V2G) Charging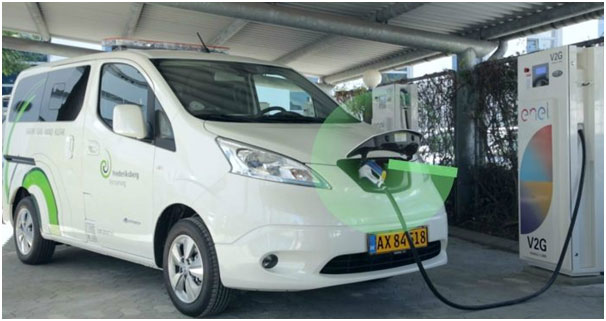 Despite the positive impact energy policy has on the planet, it leaves some issues that must be immediately addressed. As of 2016, over 25% of Europe has quit coal-burning power stations, with plans to end the fossil fuel usage by 2020 in Austria and 2025 in Britain. Although the plant closures will have significant effects of lessening CO2 emissions, it leaves many countries wondering how they will fill the energy gap.
According to a recent report by the Institution of Mechanical Engineers, Britain may face an energy gap of up to 55% at the end of a decade. Energy demand and efficiency must be considered now so that solutions can be developed prior to the total loss of the power grid. In other words, the UK (amongst other coal-reliant countries) soon faces an energy supply crisis, if they do not take the proper measures.
One solution suggested to curb the loss of coal as a power source, is to tap into the potential of the electric vehicle market and how the switch can be reversed to power the grid.
The Benefits of V2G
Owning an electric vehicle already has a variety of benefits from tax breaks to rebates and grants, but now, with V2G technology, it can also be used to power your house. The following are some of the biggest advantages to V2G technology:
Financial Rewards
According to a recent study by the National Grid and global engineering firm Ricardo, V2G could provide £600 to £8,000 of income each year for Britain's electric vehicle owners. Energy stored in the vehicle can be used to avoid peak tariffs at times of demand and an extra strain on the power grid. V2G can also optimize the value of energy generated from home renewables (like solar panels) to reduce monthly bills. All of these cost savings are in addition to the savings bundled into owning an EV in the first place.
Home Energy Storage
According to the RAC Foundation, a 4kWh electric battery has the power to provide a third of the energy needs for a typical home in the UK. Products for home battery energy storage are currently being developed to offer the opportunity to scale-up dispersed energy storage capacity.
Maximizing resource use through a fully connected home energy network can help homeowners save thousands on costs each year. Additionally, the energy can be saved from the power grid by using EVs when people are at work and running errands to power other buildings as part of a new grid infrastructure.
Green Impact
V2G is intended to put more electric vehicles on the road in an attempt to give back to the power grid and save from any lapses in the power supply. Inevitably, this has an incredibly positive impact on the environment and the air. Not all vehicle owners have to invest in expensive technology, either.
Hyper drive Innovation's battery energy storage systems (the intelligent Li-on battery) are helping make the V2G more accessible to consumers. These modular battery products are quickly being adopted by a variety of vehicle manufacturers. They can be used alongside stationary energy storage structures to work as a component of a smart home energy network.
The Drawbacks of V2G
Whenever disruptive technology is introduced, there are always a few obstacles and learning curves to overcome. In order to use an electric vehicle to charge your home, you have to make sure you have a pretty strong charger nearby. As homeowners learn the best methods to employ V2G, they should be careful no the leave themselves without a vehicle by borrowing too much power from the car.
Another obstacle V2G faces is the fact that when batteries are overused, they become less effective at storing energy. However, as the stronger lithium-ion batteries are getting cheaper to manufacture (and more disposable), this issue is quickly becoming less of a problem.
Business cases for V2G still need to be made in a variety of local economies and governments. In the UK, domestic-based charging applications can become an obstacle. Fuel cell technologies company Cenex is leading a project to begin integrating V2G into the existing energy infrastructure in cities like Berlin, Valencia, and Birmingham.
Balancing the grid
We take it for granted that if we flick a switch, our lights will come on. Or our oven will heat up. But the odds are that when we do this, millions of others will be doing the same. 'Balancing the grid' is about making sure there's enough electricity on the network when we all need it, so the country doesn't 'blackout', but not so much that we experience 'surges'. These occur when excess energy surges into our homes, potentially damaging our equipment or causing electrical fires.
And it's not just about satisfying our demand for energy. Getting renewable energy onto the network, while maintaining this 'balance' makes for a challenging future. Think about how fickle our weather is and it's easy to understand how tricky it is to predict how much wind power, for example, might be generated at any one time. Why is this so important? Well, a network that's flush with renewable energy mean lower carbon emissions which, in turn, helps build a cleaner, greener country for us all.
As electric cars become ever more popular, and more and more people adopt cheaper off-peak energy tariffs allowing them to charge their cars overnight, we could see night times becoming the new 'peak demand' for energy. That's where another new initiative called 'smart charging' will come into its own.