Ali Husain is Senior Manager for Strategy and Corporate Marketing, focusing on power electronics.  He has previously worked in Technical Marketing at Fairchild Semiconductor and at International Rectifier in various roles for 9 years.  Ali has a Bachelors of Electrical Engineering, and also a Bachelors of Economics, from the University of Pennsylvania and a Ph.D. in Electrical Engineering from the California Institute of Technology.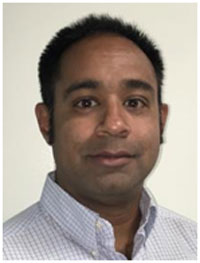 1.  Which are the megatrends in factory automation today?
Factory automation or Industry 4.0 is all about data and using data to improve, optimize and monitor the factory or warehouse.  But it is also difficult and can encounter challenges and resistance.  A good example is robotics, where workers expect robots to replace them and reduce the number of jobs.  Another example is existing operations – no one wants to shut down their factory, but then how do you increase the intelligence and connectivity of your operations?  These are the main challenges for bringing data analytics and continuous tuning into the industrial environment.
2. How is the shift to smart manufacturing sparkled the innovations in factory automation?
There is a virtuous feedback cycle where data collection and analysis of each machine, process, delay and parameter in the factory starts to result in concrete actions which the operators can take to improve the activities and detect and prevent problems in the workings of the facility.  Once you have concrete actions, you want to implement them in real time, and continuously optimize the factory.  This leads to greater automation which is installed with more data collection and connectivity, which once again leads to greater automation.  Some important innovations are continuous monitoring and optimization of processes, health monitoring and failure prediction to prevent lines from going down, and asset tracking to quickly find materials and parts when needed.
3.What the future may look like for smart manufacturing in the semiconductor industry?
In semiconductor fabrication, automation only makes thing more reliable and increases yield.  Semiconductor fabs need to have very low levels of dust and particles; automation minimizes the number of people who need to enter, which is a big source of contamination.  Also, fabrication recipes are very sensitive, so data collection and continuous monitoring help to keep everything working in the sweet spot.
4. How is power management essential in a smart factory?
One of the biggest cost in any industrial facility is energy.  Therefore it is very important that as much energy go toward the factory function and not be wasted in power conversion and distribution.  The lost energy in conversion and distribution ends up as heat, which must be removed and ends up being an additional cost.
5. What are the major power design challenges?
One big challenge is to provide optimal power delivery to end applications in legacy environment.  The input power may not be the right voltage or be unregulated or variable, which requires additional conversion stages to tailor it for the end load.  This results in inefficiencies and wasted power and heat.
6. How does ON Semiconductor meet the power design challenges?
We design and build highly efficient and power electronics for all voltage and power levels.  We have discrete solutions for those who want to design exactly the power converter they need, and integrated solutions which might only have the power switches all the way to devices which include the controller, driver and main power switches.  We also have a wide variety of packaging which allow the customer to have options in terms of form factor, cost tradeoffs and heatsinking.  Beyond the parts, we provide simulation tools and worldwide support.
7. What is the importance of cloud power in energy applications?
Datacenters are an increasing part of the computing landscape.  The fact that the data processing is centralized gives us an opportunity to make it more efficient and less expensive.  One part of this is to optimize the power conversion stages and power distribution strategy to minimize the losses and deliver more power to the processor cores which crunch the numbers.  Many cloud computing firms strive to make their operations carbon neutral by sourcing only renewable energy, in addition to making the datacenter as energy efficient as possible.
8. Please tell us about your wide bandgap power management solutions?
We have released 650V and 1200V Silicon Carbide (SiC) MOSFETs in several different packages for a wide range of applications.  We have a growing portfolio of SiC MOSFET modules for applications such as EV Charging and Solar Power.  To use the MOSFETs in the best way, we also have dedicated SiC MOSFET gate drivers to help customers design the most efficient power conversion circuits.
9. Please highlight your power solutions for industrial applications?
ON Semiconductor has the full range of solutions for industrial power applications.  Motor drive, AC to DC, DC to DC and bus protection are all covered by our portfolio of products and address powers from watts to kilowatts.  We have solutions for any topology and a wide range of voltage levels.  We have motor drive solutions in Integrated Power Modules (IPMs) with the gate driver inside, or fully integrated motor drivers for lower voltage motors.  Our Power Integrated Modules (PIMs) are designed for solar power, energy storage and EV charging applications.  For cloud and telecom applications, we have multiphase solutions, integrated buck converters and a variety of hot swap devices.