A wire-wound resistor is an electrical passive device that limits or restricts current flow in a circuit.
Wire wound resistors are constructed using a conductive wire. The conductive wire is then wound around a non-conductive core.
The wounded wire is covered with an insulating material (vitreous enamel), which opposes or blocks the outside heat. This step is taken to achieve high stability.
Hence, even at high temperatures heat does not enter the wire wound resistor. Thus, the wire wound resistors operate at high temperatures.
The wire wound resistor is made by winding the metal wire around a metal core. In wire wound resistors, metal wire is used as the resistance element and metal core is used as the non-conductive material.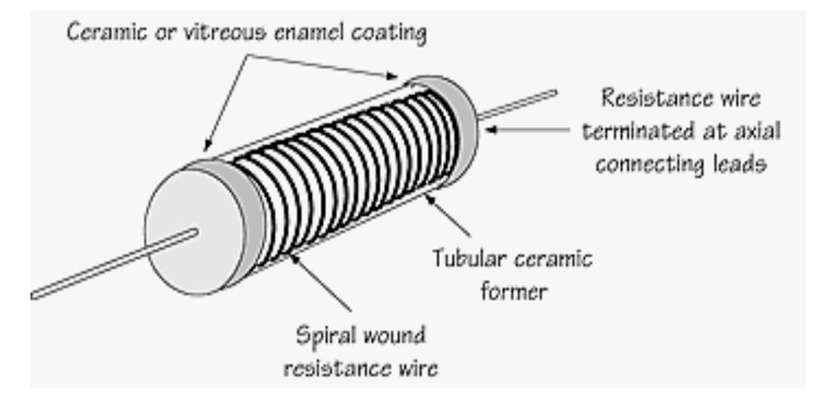 Resistance of the wire wound resistor depends on
the resistivity of the metal wire
length of the metal wire
the cross-sectional area of the metal wire
Types of Wire Wound Resister
Power wire wound resistor:
Power wire wound resistors are non-inductive wire wound resistors that operate at high temperatures. These resistors are commonly used for high-power applications.
Precision wire wound resistor:
Precision wire wound resistor operates at low temperatures with high accuracy. It is used as a precision resistor in instrumentation because of its high accuracy.
Applications of Wire Wound Resister
Telecommunication, Computers, Audio and video equipment, Medical electronic equipment, Defense and space, Telephone switching systems, Transducers instrumentation, Current and voltage balancing, and Current sensing.