The DS1990A Serial Number iButton is a tough data carrier that also functions as an electronic registration number for automatic identification. The DS1990A is built with a 64-bit ROM that includes a unique 48-bit serial number, an 8-bit CRC, and an 8-bit Family Code (01h). The 1-Wire protocol is used to transfer data serially, requiring only a single data lead and a ground return. The DS1990A is fully compatible with the DS1990 Serial Number iButton, but it also has the additional 1-Wire protocol capability that allows the DS1990A to interpret the Search ROM command, allowing multiple DS1990A devices to reside on a single data line.
Every DS1990A is assigned a unique 64-bit registration number, allowing for complete traceability. The iButton package is made of stainless steel and is highly resistant to environmental hazards such as dirt, moisture, and shock. Its compact coin-shaped profile self-aligns with mating receptacles, allowing human operators to easily use the DS1990A.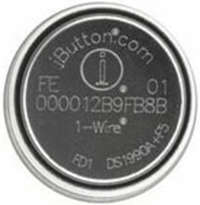 The iButton is a stainless steel can with a silicon chipset inside. The upper side of the can is in charge of signal transmission, while the lower side connects to the ground via the 1-wire protocol. It is necessary to isolate both connections, which is accomplished via an eyelet in the can.
Because the DS1990A integrated circuit is protected by a durable enclosure, it is used in a wide range of demanding projects. Each iButton is distinct due to an unchanging factory-calibrated 64-bit log identification number for error-free selection, especially when multiple devices are operating on a single bus.
There are various types of iButtons based on their functionality, but this tutorial will only cover the Address only iButton.
Memory
Address only
Real Time clock
Secure
Data Loggers
The address only iButton is read-only, which means we can only receive the identifier and not write or modify anything. By touching the device's reader, the ID number can be read in 5ms.
Pin Configuration of DS1990A iButton
The pin description of DS1990A iButton is given below.

Signal/IO – Data is sent and received through this pin a.k.a IO pin.
Ground – Common ground pin.
Features & Specifications of DS1990A iButton
Operating Voltage: 2.8V to 6V.
Communication protocol: 1-Wire.
Identifier: 64-bit registration number (laser engraved).
Data Read time: 5ms.
Sink current 20mA.
One wire Pull-Up Voltage: 2.8V to 6V.
Maximum Input low Voltage: 0.3V.
Minimum Input High Voltage: 2.2V.
Typical Input Load Current: 0.25 uA.
Minimum Recovery Time: 1 us.
Data rate of the serial communication is 16.3 kbps.
Applications of DS1990A iButton
Serial Data Communication
Data acquisition
Security purposes
Access Control
Tool Management
Inventory Control