This IC is designed by National Semiconductor in the late 1970s.
It is used for displays that visually show the magnitude of the analog signal.
The single IC can handle 10 LEDs, LCDs, or vacuum fluorescent displays on its outputs.
This is 18 pin IC which is a DIP version (Dual-inline package), where the polarity can be specified with both a notch as well as a dot.
This IC half pin can be in charge of driving the light-emitting diodes, and the remaining pins are used for controlling the IC, reference voltages, and power.

Pin Configuration of LM3914 IC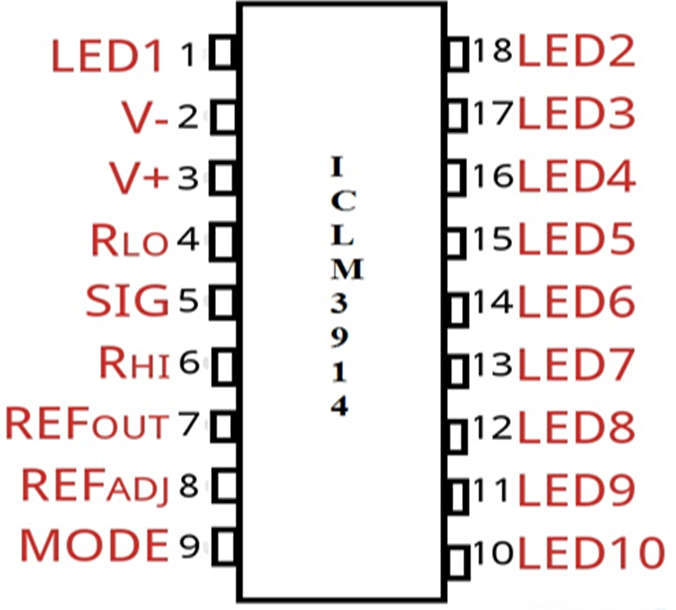 | Pins | Description |
| --- | --- |
| Pin1 | (LED1, LED2, LED3, …. LED10): The LED which has to be operated is allied to these pins. |
| Pin2 | (V- or Ground): GND pin of the integrated circuit. |
| Pin3 | (V+ or Vcc): Supply voltage ranges from 3V to 18V. |
| Pin4 | (RLO): Low-level voltage used for potential divider. |
| Pin5 | (Signal): Input pin analog signal based on which the LED is controlled. |
| Pin6 | (RHI): High-level voltage used for potential divider. |
| Pin7 | (Ref Out): Reference voltage of Output for limiting the LED current. |
| Pin8 | (Ref Adj): Adjust the pin used for voltage reference. |
| Pin9 | (Mode): Choose among Dot or Bar Mode. |
Application of LM3914 IC
The LM3914 IC is used Battery Meter for Robot, Monitoring 12V Car Battery, Tester Circuit for Soil Moisture, Monitoring Lead Acid Battery Charger, Charge Monitoring Circuit for Atmospheric, and Kitchen Exhaust Fan for Controlling Temperature.
It is also used in Meter circuits for Temperature, Digital gauges, Electronic displays, Low-cost monitor devices, Crude Battery level indicators, and Fade bars.