A panel that is compatible with the FACES kit and has an embedded radio frequency identification chipset is called FACE-RFID.
It is MFRC522-based, just like RFID units. The MFRC522 communicates with the proximity RF card using the modulation and demodulation method while operating in the 13.56MHz frequency band.
This device can recognize and record information from many cards, encode and authorize an RF card, and perform the functions of a card reading and writing device. You can have an upgraded level of RFID gadget with a more thorough and contained pattern with a FACES panel.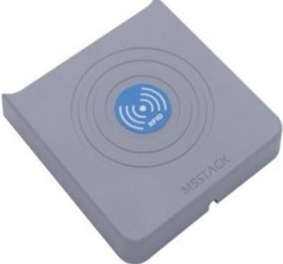 Pin Configuration of M5 Stack RFID RC522 Panel
Here RC522 is an RFID module, pin configuration of the RFID RC522 panel pinout is given below.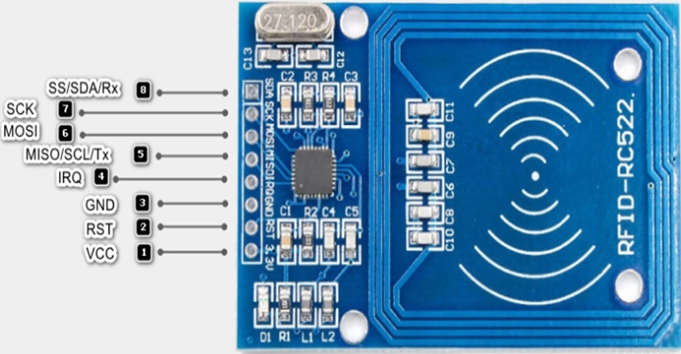 | Pin Number | Pin Name | Description |
| --- | --- | --- |
| 1 | VCC | Used to supply power (3.3V) to the module. |
| 2 | RST | Used to reset or power down the module. Hard power-down would be activated when this pin goes low. |
| 3 | GND | Ground pin, connected to the GND system of Arduino |
| 4 | IRAQ | The interrupt pin is used to alter the MCU as soon as the RFID tag shows up in its section. |
| 5 | MISO/SCL/Tx | It functions as SCL for the I2C interface and Tx for the UART interface in SPI communication. |
| 6 | MOSI | The Master Out Slave In pin is set to input for SPI communication |
| 7 | SCK | It provides a clock source for the SPI bus Master (e.g. Arduino). |
| 8 | SS/SDA/Rx | It functions as SS (Serial input) during SPI communication, SDA for IIC, and Rx in UART. |
Features and Specification of M5 Stack RFID RC522 Panel
FACES bottom friendly.
UART2 Serial Interface (16/17).
MFRC522.
13.56 MHz is the operating frequency.
Fast mode up to 400 Kbit/s; High-speed mode up to 3400 Kbit/s is the I2C data rate.
Transceiver RC522 64-byte buffer.
Supported protocols include NTAG, MIFARE, and ISO14443A.
-20 to 85 degrees Celsius for operation.
How long will data be kept after 10 years?
Approximately 8 cm for both reading and writing.
Program Platform: UIFlow and Arduino (Blockly, Python).