It is a tiny reflectance sensor that consists of an infrared (IR) LED that transmits IR light onto a surface and a phototransistor measures how much light is reflected.
The output is in analog voltage -The more IR light is sensed by the phototransistor, the lower the voltage.
Typically this sensor is used in line following robots as the white surfaces reflect more IR than black surfaces.
However, it is not limited to line followers, there is much more application that can utilize the Maker Reflect.
Sensing distance may reduce if VCC is less than 5V or the line-background contrast is low.
E.g.:-Edge/Border sensor in Sumo robot, wall sensor in maze solving robot, short distance object detector (presence sensor), sensor for rotary wheel encoder etc.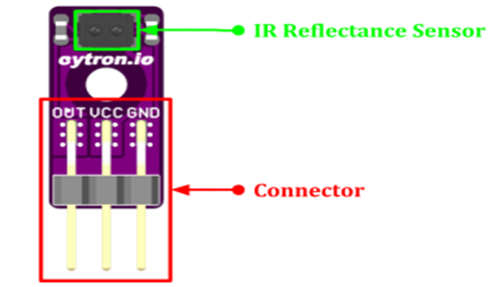 Function
Description
IR Reflectance Sensors
Infrared Sensors for line detection
Connector
VCC: Power input for the maker reflect.

GND: Ground.

OUT: Analog Output. Higher Voltage : darker surface.
Features of Maker Reflect
Operating Voltage: 3.3V and 5V Compatible.
Sensing Distance (Height): 1mm to 40mm (Vcc = 5V, Black line on white surface).
Output: Analog Voltage (White surface = lower voltage).
Dimension of Maker Reflect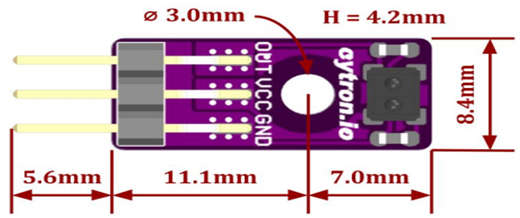 Schematic Diagram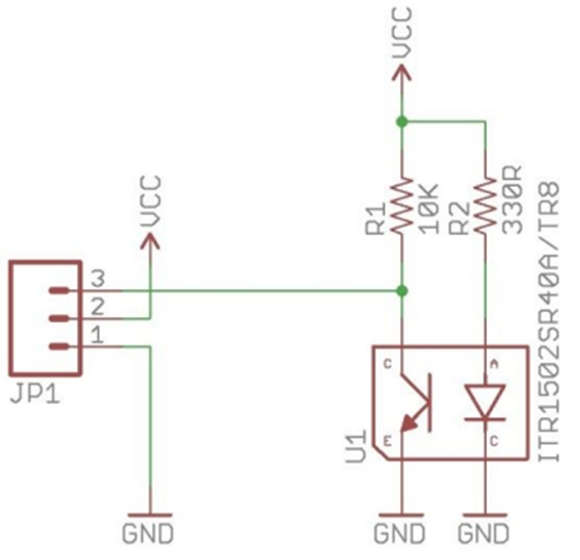 Applications of Maker Reflect
It is used in Line Following Robot, Sumo Robot, Wall Following Robot, Short Distance Object Sensing, and Sensor for Printed Rotary Wheel Encoder.