The regenerative receiver or regen radio provides a significant increase in gain and selectivity over the standard tuned radio frequency receiver.
It was invented in 1912 and patented in 1914 by American electrical engineer Edwin Armstrong. It was used between 1915 and World War II.
It is an amplifier circuit that employs positive feedback (also known as regeneration or reaction).
The amplifying device output is applied back to its input to add to the input signal, increasing the amplification.
For example, is the Schmitt trigger (which is also known as a regenerative comparator), but the most common use of the term is in RF amplifiers, and especially regenerative receivers, to greatly increase the gain of a single amplifier stage.
The above diagram shows the schematic of the regenerative receiver.
The antenna gives the incoming RF signal and passed through a tunable BPF tank so it selects the desired channel.
Then this signal is then amplified by a triode or other device used in the regen receiver.
The amplified output signal is then given back into the resonant tank via the tickler coil where it is once again filtered by the tank and amplified by the tube.
The two effects of positive feedback–increased gain and bandwidth sharpening–are easily understood through a simplified analysis of the system.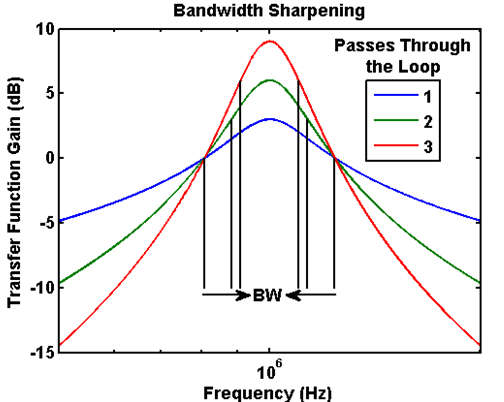 The above figure shows the series of transfer functions represented in Fig. 2. Without positive feedback the circuit has the transfer function represented by the blue curve.
It allows the multiple time the signal is passed through the circuit with positive feedback and each pass increase the selectivity of the filter and the passband gain of the receiver.
Both the passband gain and the selectivity of the circuit system are extremely high but remain finite as a result of diminishing returns in the feedback loop.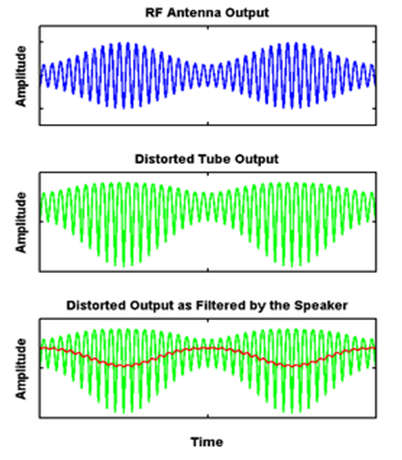 The single vacuum tube of the nonlinear response is also used to demodulate the signal. Fig. 3 demonstrates this effect.
The original amplitude modulated signal is passed through the distorting nonlinearity of the tube, which applies different levels of distortion to positive and negative swinging signals.
Sending this distorted signal through a simple LPF is enough to recover the desired signal.
Advantages of Regenerative Receiver
Provides high performance for a few components.
High levels of gain resulting from regeneration.
High Q from use of regeneration.
Disadvantages of Regenerative Receiver
Requires more operator skill than other types of receiver.
Can radiate when the detector is in oscillator mode, or close to it.
Can only receive AM, Morse, & SSB – modes like FM are not viable.