RF frequency synthesizer technology is widely used & there are several different types of PLL synthesizers, direct and indirect, digital & analog, etc.
It is an electronic circuit that generates a range of frequencies from a single reference frequency.
The frequency synthesizer's outputs are related to the stability and accuracy of its reference frequency input.
Therefore the synthesizers use stable and accurate reference frequencies, such as those provided by a crystal oscillator.
The frequency synthesizer compares the phases of two input signals and produces an error signal that is proportional to the difference between their phases.
The error signal is then given to low pass filtered and used to drive a VCO then it gives an output frequency.
The output frequency is going through a frequency divider back to the input of the system, producing a negative feedback loop.
The output frequency is the drain, then the phase error signal will increase and drive the frequency in the opposite direction so, the error is reduced.
Therefore, the output is locked to the frequency at the other input.
This other input is usually derived from a crystal oscillator, which is very stable in frequency and is also called a reference.
The block diagram below shows the basic elements and arrangement of a PLL-based frequency synthesizer.
A frequency synthesizer is the ability to generate multiple frequencies is the divider placed between the output and the feedback input.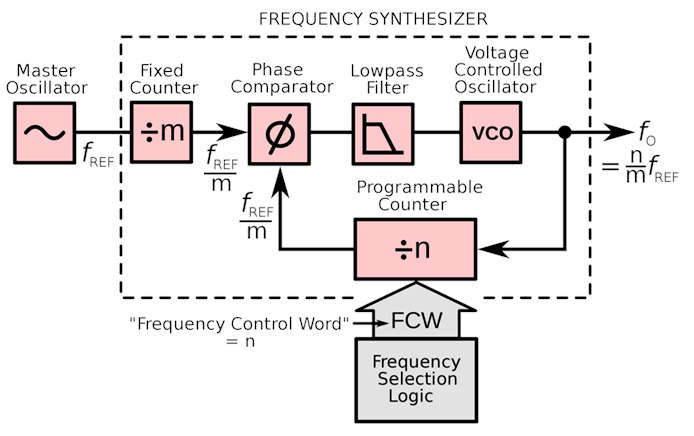 This is usually in the form of a digital counter, with the output signal acting as a clock signal.
It is digital, is very easy to interface to other digital components or a microprocessor and this circuit is straightforward to implement using flip-flops.
It allows the frequency output by the synthesizer to be easily controlled by a digital system.
Applications of Frequency Synthesizer
This synthesizer is used in many devices like radio receivers, televisions, mobile telephones, radiotelephones, walkie-talkies, CB radios, cable television converter boxes, satellite receivers, and GPS systems.
The techniques used in frequency synthesizers are frequency multiplication, frequency division, direct digital synthesis, frequency mixing, and in PLLs to generate its frequencies.