This is a low dropout voltage regulator device that is available as an ultra-small, low quiescent current IC.
TPS7A11 IC is connected to the power supply as low as 140mV above the output voltage.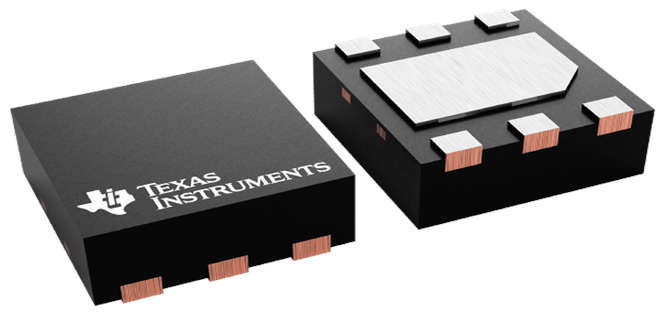 Working of TPS7A11 Low Dropout Voltage Regulator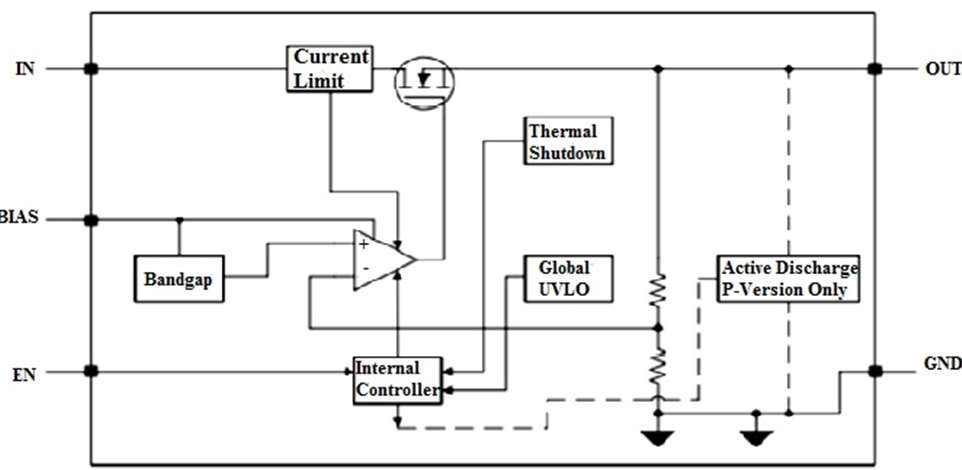 Excellent Transient Response
As a result of devices' high input impedance and low output impedance, IC responds quickly to a transient in input supply and output current.
Global Under Voltage Lockout
This IC has two under voltage lockout circuits. One on the BIAS pin and the other on the IN pin. This circuit prevents TPS7A11 from turning ON before either BIAS or IN voltages rise above their lockout voltages.
These two UVLO signals are internally connected through an AND gate. Thus if either of these signals is below the lockout voltage the device gets Turned OFF.
Active Discharge
This MOSFET connects a 120Ω resistor to the ground when the device is disabled. This circuit is activated when the enable pin is low or when the device is in thermal shutdown mode.
Internal Foldback Current Limit
This circuit is used to protect the IC from high-load current faults or voltage shorting events.
Thermal Shutdown
When the thermal junction temperature of the device rises to the thermal shutdown temperature, this circuit disables the device.
When the temperature falls below the shutdown temperature, thermal shutdown hysteresis ensures that the LDO resets again.
TPS7A11 operates in three functional modes – Normal operation, Dropout operation, and disabled mode.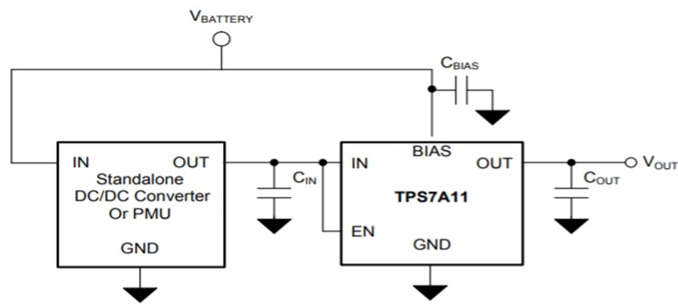 Capacitor Types
This IC requires capacitors at the input, output, and bias pins for stability.
Mostly ceramic capacitors are used and Multilayer ceramic capacitors should be used with care.
Input-Output Capacitor Requirements
The minimum input capacitor required for IC is 2.2 µF.
The output capacitor minimum value is 2.2µF and the maximum value is 22µF.
The bias capacitor value is 0.1µ.
Pin Configuration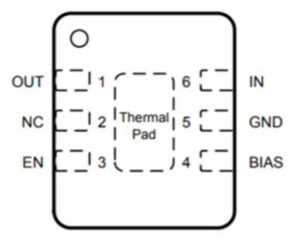 Pin-1 is the regulated output pin OUT.
Pin-2 is the NC pin that is not connected internally.
Pin-3 is the enable pin EN.
Pin-4 is the bias pin BIAS.
Pin-5 is the ground pin GND.
Pin-6 is the input pin IN.
Applications of TPS7A11 Low Dropout Voltage Regulator
TPS7A11 is used to supply power to the lower core voltages of modern microcontrollers and sensors.
It is used in smartwatches and fitness trackers.
Wireless headphones and Earbuds also make use of this voltage regulator.
This voltage regulator can be found in camera modules.
Portable medical devices, Smartphones, tablets, and solid-state devices make use of the TPS7A11 voltage regulator.