BSS84 is P-Channel Enhancement Mode MOSFET (Metal Oxide Semiconductor Field Effect Transistor) and is used as a high-speed switching device in applications. The device is designed using ON Semiconductor's proprietary, high cell density, DMOS technology.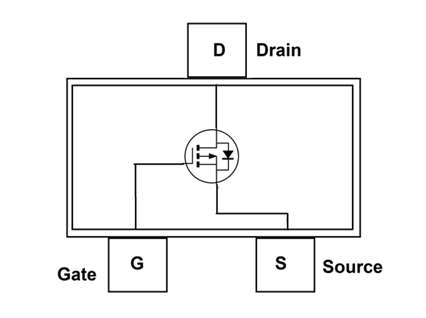 Pin Configuration
BSS84 is a three-pin device as shown in the figure and the function of each of those pins is stated below.
| Pin | Name | Function |
| --- | --- | --- |
| 1 | Drain | Current which comes into the device through the Source pin goes out through the Drain pin. |
| 2 | Gate | MOSFET gets turned ON and OFF depending on the voltage applied to gate. |
| 3 | Source | Current comes into the device from the Source pin. |
Working
When the -5V gate signal is given through the microcontroller at a set time, then MOSFET will start performing.
The current supplies throughout the transistor & this current flow can lead to a drop in voltage beyond load. This voltage drop will switch ON the load.
The load used in the circuit is the motor which will rotate continuously until the microcontroller negative voltage is there & the direct voltage like 'Vo' will go to 0V to stop the motor from rotating.
Thus, BSS84 is used as a switching device in the above application & in a similar method, we can utilize the transistor in other different circuits.
Applications of BSS84 MOSFET
Functions of Power Management.
Line Current Interrupter within Telephone Sets.
Liner Transformer Drivers.
Load Switching.
Protection of Battery.