The LM350 is a three-terminal positive voltage regulator with an adjustable output voltage range of 1.2 V to 33 V that can supply more than 3.0 A. This voltage regulator is extremely simple to use and only requires two external resistors to set the output voltage. It also has internal current limiting, thermal shutdown, and safe area compensation, making it virtually blowout-proof.
The LM350 is suitable for a wide range of applications, including local, on-card regulation. This device also functions as an especially simple adjustable switching regulator, a programmable output regulator, or a precision current regulator by connecting a fixed resistor between the adjustment and output.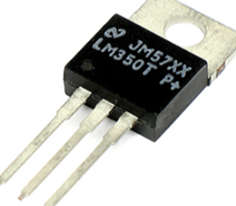 What is a Voltage Regulator?
A voltage regulator produces a fixed output voltage of a predetermined magnitude that remains constant regardless of input voltage or load conditions. Voltage regulators are classified into two types: linear and switching.
A linear regulator is comprised of an active (BJT or MOSFET) pass device (series or shunt) that is controlled by a high gain differential amplifier. It compares the output voltage to a precise reference voltage and adjusts the pass device to keep the output voltage constant.
A switching regulator converts an alternating current input voltage to a switched voltage that is applied to a power MOSFET or BJT switch. The filtered power switch output voltage is fed back to a circuit that controls the on and off times of the power switch, ensuring that the output voltage remains constant regardless of input voltage or load current changes.
Pin Configuration
The Pin diagram of the LM350 Adjustable voltage regulator IC is shown below.

| Pin No. | Pin Name | Description |
| --- | --- | --- |
| 1 | Adjust | This pin controls the output voltage. |
| 2 | Output | This pin can be used to obtain the regulated output voltage set by the adjust pin. |
| 3 | Input | This pin receives the input voltage that must be regulated. |
Circuit Diagram
The circuit diagram for the LM350 IC is shown below. It is a three-terminal integrated circuit. This regulator is used in a wide range of applications. It also serves as a variable voltage regulator.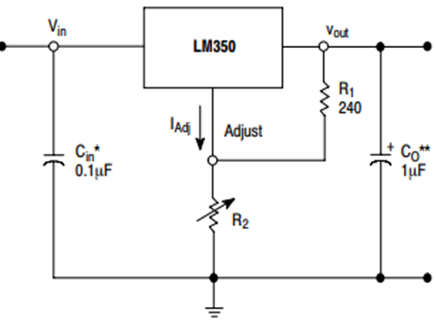 This IC, as previously stated, has three pins, one of which is connected to the Vin pin, which receives the input voltage. The voltage at the adjusted pin is then fixed using a potential divider. In this case, a voltage divider can be made with a pair of resistors. As a result, the Vout pin can be used to determine the output voltage. Vout can be connected to the circuit's pair of resistors.
To make this IC look like a variable voltage regulator, a potentiometer is used to fix variable voltages at pin-1 within the potential divider. Connecting resistor R1 and the potentiometer at the adjusting pin, which controls the Vout pin, yields the potential difference.
        VOUT = 1.25 × (1 + (R2/R1)) + Iadj(R2)
Features of LM350 Adjustable Voltage Regulator
Output Current Guaranteed at 3.0 A.
Adjustable between 1.2 V and 33 V.
Load Regulation Typically 0.1 percent.
Line Regulation Typically 0.005 percent /V.
Internal Thermal Overload Protection.
Output Transistor Safe Area Compensation.
Floating Operation for High Voltage Applications.
Standard 3lead Transistor Package.
Applications of LM350 Adjustable Voltage Regulator
Chargers for batteries.
Chargers with a Limited Current.
Switching Regulators.
Temperature Regulators.
Light Controller.
Commonly found in desktop computers, DVDs, and other consumer products.