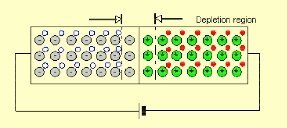 The potential difference created across the P-N junction due to the diffusion of electron and holes is called potential barrier.
The potential barrier in the pn junction is the barrier which does not allow charge flow across the junction normally.
In quantum mechanics, in contrast to classical mechanics, the passage of particles with energy less than V0 through the potential barrier is possible. This phenomenon is called the tunnel effect.
For  Ge VB=0.3v and for silicon vB=0.7v
The potential barrier in P-N junction is ~0.5 V and the width of depletion region ~10-6m.
some important graphs