QAM: Quadrature Amplitude Modulation combines amplitude & phase changes to give additional capacity & is widely used for data communications.
This modulation technique is the combination of phase and amplitude modulation of a carrier wave in a single channel. It is also known as "Quadrature carrier multiplexing".
In a QAM signal, the direct modulation of a carrier wave in quadrature is involved.
The quadrature name indicates that the phase difference between two carriers wave is 90 degrees and each carrier wave has the same frequency.
In QAM the first signal is called the in-phase "I" signal, and the other is called the quadrature "Q" signal.
Mathematically, a sine wave represented one of the carrier signals and the other can be represented by a cosine wave.
At the source, the two modulated carrier signals are transmitted together and these two carrier signals are demodulated or separated independently, at the destination.
To demodulate the signal coherent detection method is used.
The waveform of the QAM technique is shown below.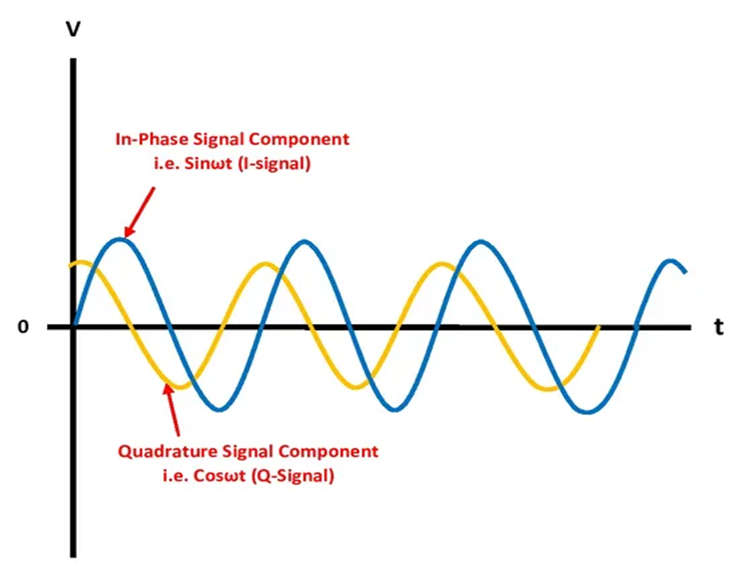 The Bandwidth of Quadrature Amplitude Modulation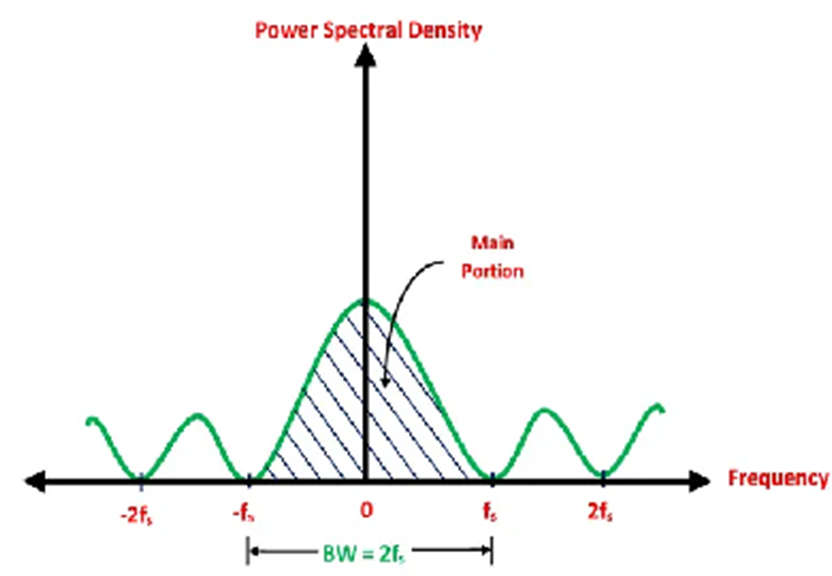 The main portion of the frequency spectrum extends from –fs to +fs. Therefore the bandwidth of the QAM system is given by.
Bandwidth(BW)=fs – ( -fs )=2fs=2/Ts (as fs=1/Ts)
=2/NTb (as Ts = NTb)
BW = 2fb/N (as fb=1/Tb)
Advantages of Quadrature Amplitude Modulation
Noise immunity of QAMs is very high hence noise interference is very less.
It has a low probability of error value.
It supports a high data rate. So that the number of bits can be carried by the carrier signal. Hence, it is mostly used in wireless communication systems.
It has a doubling of the effective bandwidth.
By using both sine wave and cosine wave in a single channel the communication channel capacity is doubled compared to the use of only one sine wave or one cosine wave.
Disadvantages of Quadrature Amplitude Modulation
The amplitude changes are susceptible to noise in QAM.
It is not necessary to use of linear amplifier in a radio transmitter when a phase or frequency modulated signal is amplified, but due to the presence of an amplitude component in QAM, it is necessary to use the linear amplifier to maintain linearity. These linear amplifiers are less efficient and consume more power.
It is possible to transmit more bits per symbol but in higher-order QAM formats the constellation points are closely spaced which is more susceptible to noise and produces errors in the data.
Also in higher-order QAM formats, there is difficult for the receiver to decode the signal appropriately. In other words, there is reduced noise immunity. So the higher-order QAM formats are only used when there is a high signal-to-noise ratio.
Applications of Quadrature Amplitude Modulation
It is used in the radio communications field because of the increase in the bit data rate.
This modulation is used in applications ranging from short-range wireless communications to long-distance telephone systems.
Quadrature amplitude modulation is used in microwave and telecommunication systems to transmit information.
Quadrature amplitude modulation is used in optical fiber systems to increase bit rates.
QAM is used in many communication systems like Wi-Fi, Digital Video Broadcast (DVB), and WiMAX.