The Video Graphics Array (VGA) connector is a computer video output standard. VGA is a popular display standard introduced in 1987 by IBM. VGA color display screens have 640 x 480 resolution, a refresh rate of 60 Hz, and can display up to 16 colors at once. When the resolution is reduced to 320 x 200, 256 colors are displayed.
VGA uses analog signals, so it can only display lower resolutions and lower quality images on screens.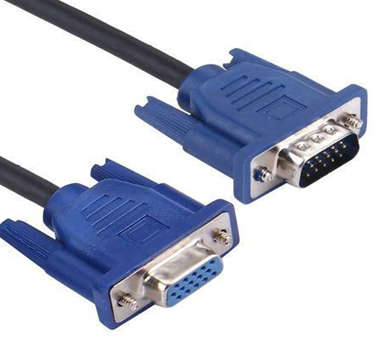 A VGA cable is primarily used to connect computers and laptops to screens and monitors, though it is also found on older AV equipment.
While a VGA port is a relatively old connection type, it still has its uses, so don't be surprised if you come across one on occasion.
There will still be times when you need to use a VGA connection. You might be surprised to learn that you can connect VGA to HDMI, which can be extremely useful when connecting older equipment.
It's a 15-pin female D-sub port. The 'D' shape ensures that VGA cables can only be plugged in one way, and it is commonly colored blue or black.
The connector will either be a video input or output depending on your device. It may be labeled 'input' or 'output' on the device, but if not, you should be able to figure out what it is by considering what the device is for. On a desktop or laptop computer, for example, the VGA port is a graphics card output for connecting to a monitor or screen.
How does a VGA connector work?
A VGA connection transmits analog video signals between devices that are compatible. A VGA connector on your AV equipment is typically used to connect your PC or laptop to a projector or television.
VGA connections typically receive an analog RGB signal from a device – the same type of video signal that a computer receives – and VGA supports both standard and high-definition resolutions.
Because a VGA cable does not transmit audio signals, you will need to use a separate audio connection to hear any audio.
Because the standard 15-pin D-Sub connector is found on many computers, you can send a computer image to your TV screen using VGA male-to-male cables.
Pin Configuration
The pin diagram of the VGA connector is shown below.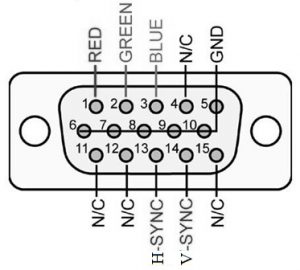 | Pin No. | Description |
| --- | --- |
| 1 | Red Video |
| 2 | Green Video |
| 3 | Blue Video |
| 4 | Monitor ID 2 |
| 5 | TTL Ground (monitor self-test) |
| 6 | Red Analog Ground |
| 7 | Green Analog Ground |
| 8 | Blue Analog Ground |
| 9 | Key (Plugged Hole) |
| 10 | Sync Ground |
| 11 | Monitor ID 0 |
| 12 | Monitor ID 1 |
| 13 | Horizontal Sync |
| 14 | Vertical Sync |
| 15 | Monitor ID 3 |
Features of VGA Connector
Type – Computer Analog Video Connector.
Data Signal – I2C data channel for DDC information.
Video signal – RGB video signal plus option H and V sync.
No. of Pins – 15.
Connector – DE-15.
Applications of VGA Connector
For gaming.
For older displays.
VGA connectors are used to connect a computer or laptop (with a VGA connector) to a television, monitor, or projector.