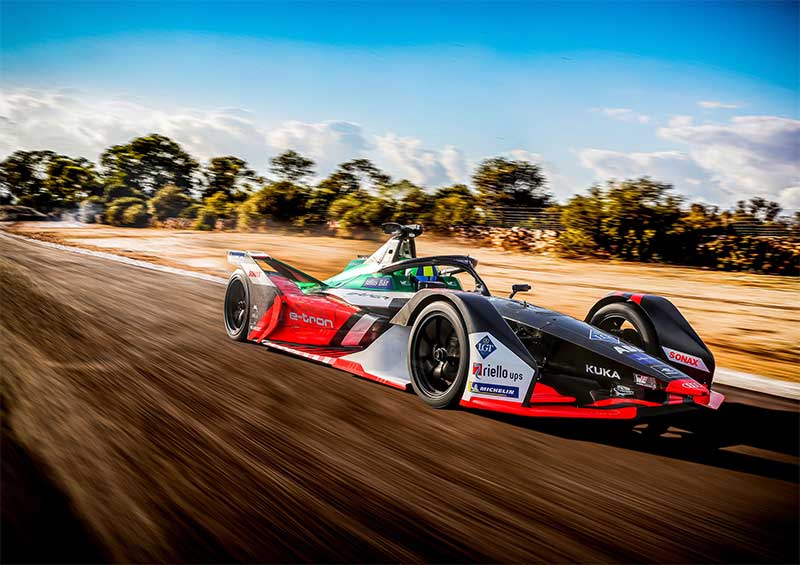 Successful partnership in development intensified
Waldenburg (Germany), 26 November 2019 – Last weekend, the Audi Sport ABT Schaeffler racing team got off to a successful start in the sixth season of the FIA Formula E racing championship, with Lucas di Grassi securing a place on the podium, while Daniel Abt made a great performance to catch up and grab valuable points for the team, crossing the finishing line in an excellent sixth place. Würth Elektronik eiSos has been involved right from the word 'go': the supplier of electronic and electromechanical components has been a dependable technology partner for the racing team since the very beginning, making a major contribution to its successes. This cooperation has been intensified further still for this season, and now the company is the proud bearer of the title "Official Partner of Audi Sport". Not only does Würth Elektronik supply products for the custom-made REDCUBE terminals used in the racing cars, but it also supports Audi Sport ABT Schaeffler with many other services too. The visible sign for this deeper level of partnership is the new and prominent placement of the Würth Elektronik logo directly on the cockpit.
The new Audi e-tron FE06 racing car already showed its enormous potential during the trial phase in Valencia, putting on an excellent performance at the first races of the season in Saudi Arabia: the two pilots, Lucas di Grassi and Daniel Abt, crossed the finishing line in second and sixth positions, laying the foundations for a promising sixth Formula E season.
Oliver Konz, CEO of the Würth Elektronik eiSos Group, is very pleased with the start into the new season: "In this season, there will be twelve teams competing with each other, including the four German premium brands Audi, BMW, Porsche, and Mercedes: the fans can look forward to what will be probably the most exciting season ever, and hereto, everyone is already at fever pitch." Alexander Gerfer, CTO of the Würth Elektronik eiSos Group, adds: "In our role as an enabler and a reliable partner for the industry, it's important for us not only to foster the concept of e-mobility with our components, but also to continue to drive it forwards innovatively. The Formula E circuit gives us this opportunity, enabling us to put our components through their paces under extreme conditions – and of course it also benefits our customers, who ultimately draw the greatest profit from our efforts here."
On the road to a successful future
Audi Sport ABT Schaeffler is the only team to have taken part in the entire circuit with the same duo of drivers. With twelve wins, 41 places on the podium in 60 races, and one driver's title and one team title, it's the most successful racing team in the field. "We, as the technology partner, are extremely proud to be a part of this success story – and we're already working on the next coup," explains Oliver Opitz, Vice President Wireless Connectivity & Sensors and Formula E Technical Coordinator at Würth Elektronik. "The starting signal for the joint development of the next-generation Audi e-tron FE07 has already been given: the components made by Würth Elektronik will enhance the efficiency in the high-voltage system installed in the racing cars. Also on board will be new components currently being developed by our field application engineers."
But first things first: coming out well in the sixth season. The agenda for the thrilling races is going to take the teams to top metropolises like Mexico City, Paris, Seoul, Berlin, and New York. All upcoming race days at a glance:
18 Jan 2020 Chile/Santiago
15 Feb 2020 Mexico/Mexico City
29 Feb 2020 Morocco/Marrakesh
21 Mar 2020 China/Sanya
4 Apr 2020 Italy/Rome
18 Apr 2020 France/Paris
3 May 2020 South Korea/Seoul
6 Jun 2020 Indonesia/Jakarta
21 Jun 2020 Germany/Berlin
11 Jul 2020 USA/New York
25 Jul 2020 United Kingdom /London 1
26 Jul 2020 United Kingdom /London 2