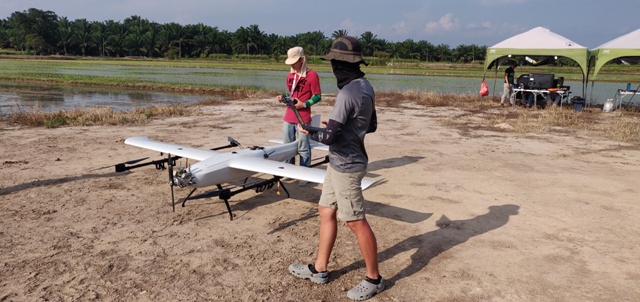 Waldenburg (Germany), 8 February 2021 – As a leading manufacturer of electronic and electromechanical components, Würth Elektronik actively promotes sustainable innovations, start-ups and young developers. In addition to providing components free of charge, the assistance includes, in particular, support from experienced electronics and design experts as well as the transfer of technical know-how. A current example is the support of the humanitarian project Yonah by the Würth Elektronik branch in Singapore. The start-up has developed a robust cargo drone for medicine deliveries to impassable areas.
A hospital in the difficult-to-access highlands of Papua New Guinea and the fight against a rampant measles epidemic there were the impetus for the Yonah founders to develop an innovative cargo drone for transporting medicines. The portable, particularly robust and low-maintenance robotic aircraft has a long range and can take off and land vertically. An indispensable component in the electronics-hostile environment are particularly robust and vibration-insensitive connectors, which were provided to the developers by Würth Elektronik. The first operational drone from the Yonah development is a hybrid aircraft that combines the flexibility of a multi-rotor helicopter with the endurance performance of a fixed-wing aircraft.
Electronics helps
"The team at Wurth Electronics Singapore Pte.Ltd loves this wonderful project. It is a meaningful and peaceful use of unmanned aerial technology where electronics helps save lives," says a delighted Ching Man Lau, HR Manager at Würth Elektronik eiSos, who is coordinating the project with the University of Singapore and Team Yonah. "The success of such a drone depends on being robust and low-maintenance. A flying robot with a two-stroke engine sounds unusual, but Yonah is finding solutions that fit the conditions in remote rural areas. We are pleased that components from Würth Elektronik and the cooperation with our experts are an important part of this solution, and wish Yonah continued success," continues Field Application Engineer Daryl Wong.
"You can find out more about this exciting project at www.yonah.sg. I warmly invite start-up companies to contact us for the electronic parts of their innovative product ideas," says Sebastian Tan, General Manager, Würth Electronics Singapore Pte. Ltd. "Start-up support is all about being in the right place at the right time and being able to support from the beginning of the design phase. When it comes to realizing prototypes or first small series, developers are often faced with the simple challenge of finding the right components and being able to get expert advice on design. This is where we are ready with our solutions within the framework of the Würth Elektronik Technology Partnerships for start-up support."