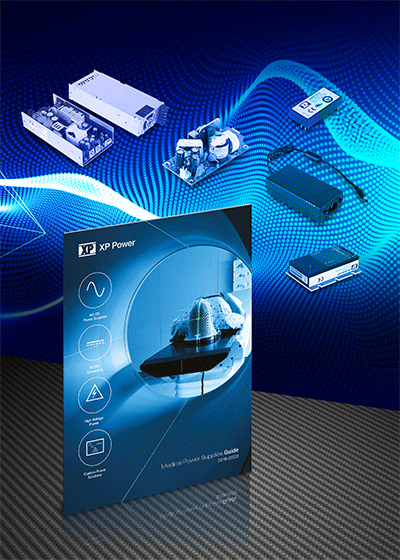 July 3, 2019 – XP Power, a leading global supplier of power solutions, has introduced a new medical power supplies guide that provides a wealth of useful information for design engineers seeking the optimum power solution for their project. The comprehensive guide provides an overview of XP Power in terms of their vision, core values, quality systems, manufacturing facilities and compliance regime so that customers can better understand the company behind the comprehensive range of medical power supplies.
Of particular benefit to designers and specifiers is a quick reference guide to the main requirements of the latest versions of applicable standards within the medical arena. This is invaluable in ensuring that products selected will meet the latest legislation. Throughout the guide, safety and compliance related parameters and associated approvals are clearly indicated for each product series, allowing designers to select products with confidence.
The guide details all of XP Power's comprehensive range of medically focussed power solutions including AC-DC and DC-DC products. From low-voltage, low-power to high-voltage, high-power solutions, every device series is presented, including a number of specialist medical solutions that are not shown in XP Power's main catalogue. The main features of each and every series are described, allowing designers to quickly select a product with the performance and functionality they require.
As a further resource, application examples are presented including a showcase of customised products that are supplied with full approvals. These unique, customer-focused solutions can meet the most demanding and diverse requirements.
The new guide is available for free download or as a hard copy via the XP Power website. In addition to the products, the guide also lists all of XP Power's global sales offices and approved distribution network from where local support can be provided.