The LM78L05 is a 5 V fixed three-terminal positive voltage regulator with internal current limiting and thermal shutdown that makes it virtually indestructible. The 78L05 can provide on-card local regulation, removing the distribution issues associated with single-point regulation.
The regulator can deliver 100 mA output current with adequate heat sinking. Current limiting is used to keep the peak output current at a safe level. To limit internal power dissipation, output transistors have safe area protection.
When the internal power dissipation exceeds the heat sinking capacity, the thermal shutdown circuit prevents the IC from overheating.
When used as a Zener diode/resistor combination replacement, the 78L05 improves output impedance by two orders of magnitude while also lowering quiescent current and noise.
In addition, the 78L05 can be combined with power-pass elements to create high-current voltage regulators. The LM78L05 is also a low-current (max 0.1 A) substitute for the LM7805.
How to use 78L05
The 78L05 is a voltage regulator with three terminals. As shown in the 78L05 pinout diagram, the three terminals are Input, Output, and Ground. It is very simple to use this IC; simply connect the input pin to the input voltage that needs to be regulated and the ground pin to the system ground.
The 78L05 is used in the circuit below to regulate a 12V input voltage to 5V. You use the 5V to power any small loads that draw less than 100mA, such as LEDs. Because the maximum current that this IC can provide is only 100mA.
It is also worth noting that the capacitors C1 and C2 are used at both the input and output ends. These capacitors filter any noise that is coupled with the input voltage. It is not necessary to use the exact value of the capacitor, but 10uF for C1 and 1uF for C2 would be a good starting point.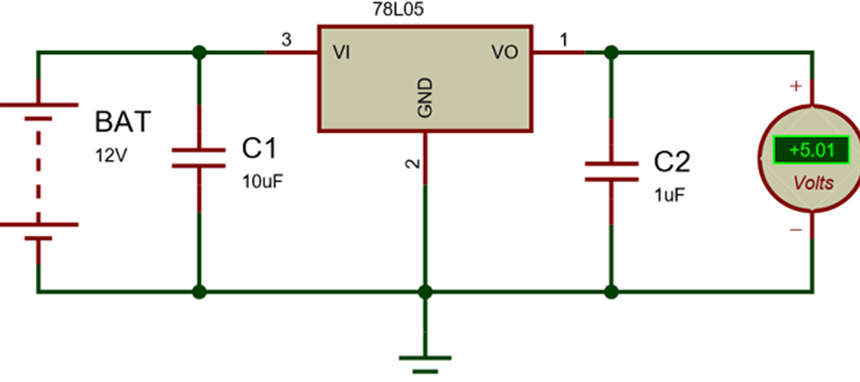 These regulators can also limit current and protect when the temperature rises above the junction temperature. If you connect high current loads, you can expect the IC to get very hot and eventually shut down. In this case, a high current regulator such as the 7805 would be an excellent choice.
It can be used as a voltage regulator, a current regulator, a short-circuit protector, a booster circuit, and even a variable voltage regulator in addition to a voltage regulator.
Pin Configuration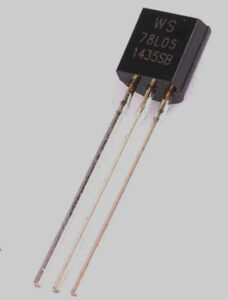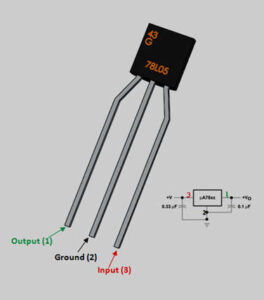 | Pin No. | Pin Name | Description |
| --- | --- | --- |
| 1 | Output (Vo) | Outputs Regulated +5V |
| 2 | Ground (GND) | Connected to Ground |
| 3 | Input (V+) | Unregulated Input Voltage |
Applications of 78L05 Voltage Regulator
Adjustable output regulator.
Power small loads under 100 mA.
LED lighting.
Output polarity-reversal-protection circuit.
Output booster circuit.
Current limiter.
Voltage step-down circuits.
Power supply circuits.