For third-quarter 2017, deposition equipment maker Aixtron SE of Herzogenrath, near Aachen, Germany has reported revenue of €62.2m, up 2.6% on €60.6m last quarter and 22% on €51m a year ago. However, this includes non-recurring positive effects of €4.6m from shipments made in prior years (but where payment had been regarded as unlikely), so adjusted revenue is €57.6m, down 5% on last quarter.
Adjusted to exclude the €4.6m of non-recurring items, gross margin improved to 35% from 26% last quarter – despite an unfavorable $/€ exchange rate – due to better product mix and the absence of the low-margin sales that affected the first half of the year.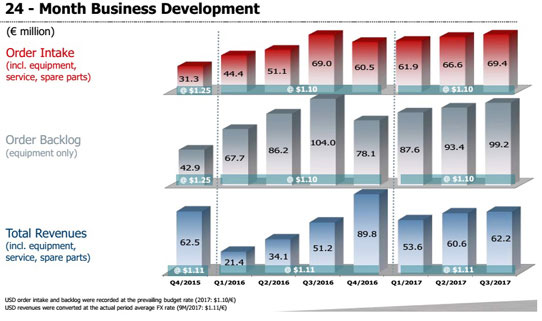 After excluding spending on ongoing restructuring activities (mainly related to the sale of Aixtron's ALD/CVD memory product line), adjusted operating expenses have been cut from €19.6m last quarter to €18.7m.
On an adjusted basis, compared with last quarter, there have been improvements both in the operating result (earnings before interest and taxes, EBIT) from -€3.6m to +€1.4m and in the net result from -€3.7m (-€0.03 per share) to +€1.1m (+€0.01 per share).
Due mainly to entering profit plus advance payments received from customers (which have grown to €42m), operating cash flow has risen from €8.7m to €13.2m. So, despite capital expenditure (CapEx) rising from €1.7m to €5m, free cash flow has hence still also risen, from €7m to €8.2m. Reflecting the operational performance in combination with reduced and more efficient use of working capital, cash and cash equivalents therefore rose to €203.9m at the end of September, up from €197.1m at the end of June and €160.1m a year previously.
Driven by the continued strong demand seen in recent quarters for metal-organic chemical vapor deposition (MOCVD) systems for the production of vertical-cavity surface-emitting lasers (VCSELs) and other laser applications, ROY (red-orange-yellow) and specialty LEDs as well as power electronics, order intake rose by 4.2% from €66.6m last quarter to €69.4m. However, this includes a non-recurring positive effect of €4.9m from shipments made in prior years (but where payment had been regarded as unlikely), so adjusted order intake was €64.6m (down 3%). Nevertheless, at the end of September equipment order backlog was €99.2m, up 6% on €93.4m at the end of June.
"Thanks to our broad product portfolio and the increased demand for MOCVD equipment for laser applications [including a significant order received in September from IQE], we are pleased about the order development," says president Dr Bernd Schulte. Given the increased demand across most of its markets, full-year 2017 Aixtron has therefore – for the second time this year – increased its guidance for orders, from €210‑230m to €240‑250m (at the prevailing budget rate of US$/€1.10). It has also refined its guidance for revenue, from €210‑230m to €220‑230m (consisting of the Q1-Q3 revenue of €176.3m, supplemented by Q4 seeing €34-44m of the €99.2m order backlog converted into revenue, plus a forecasted €10m of spares & service revenue in Q4). This guidance hence requires Q4/2017 revenue of just €44-54m.
This is even after excluding orders and revenue from the atomic layer deposition/chemical vapor deposition (ALD/CVD) memory product line (which is based at its US subsidiary Aixtron Inc in Sunnyvale, CA, USA) from the expected date of completion (by the end of 2017) of its sale to Eugene Technology Inc (a US subsidiary of South Korea-based Eugene Technology Co Ltd). The deal received approval from the Committee of Foreign Investment in the United States (CFIUS) on 23 October. As a result, Aixtron now expects to generate positive free cash flow and to achieve EBIT break-even for full-year 2017.
"Going forward, the major short-term growth driver will be around our MOCVD technology across specialty LEDs and laser applications," says Schulte. "In the mid-term, the emergence of wide-bandgap semiconductor power electronics applications represents a growing opportunity," he adds. "We are well on track to improve our margins and to optimize OpEx and align them with the revenues we generate."
"We are very confident in our strategy in focusing on our core technologies and we believe that we are well positioned to take advantage of the opportunities we are seeing in front of us in compound semiconductors, carbon nanomaterials and OLEDs [organic light-emitting diodes]," concludes Schulte.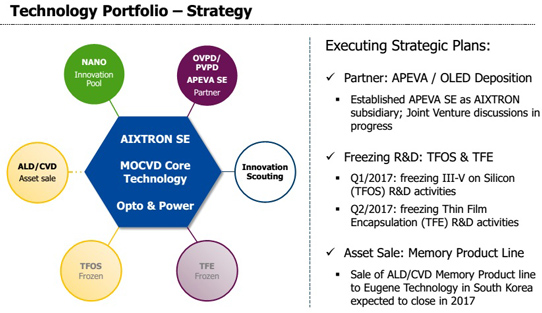 In order to return to profitability in 2018, Aixtron continues to execute restructuring measures as well as to seek the establishment of partnerships for its OLED business. The subsidiary APEVA SE for OLED deposition technology officially began operation on 1 October. Aixtron is continuing discussions with potential industry and financing partners in Asia to form a joint venture with APEVA. "Our OLED business is approaching major milestones in terms of customer qualification," notes president Dr Felix Grawert (who joined Aixtron's executive board in August). "Our Gen2 Pilot manufacturing tool is in final assembly and will be ready for testing by the customer this year," he adds.