Radio waves are a type of electromagnetic radiation best known for their use in communication technologies, such as television, mobile phones, and radios. These devices receive radio waves and convert them to mechanical vibrations in the speaker to create sound waves.
Radio waves have the longest wavelengths in the electromagnetic spectrum. They range from the length of a football to larger than our planet.
He used a spark gap attached to an induction coil and a separate spark gap on a receiving antenna.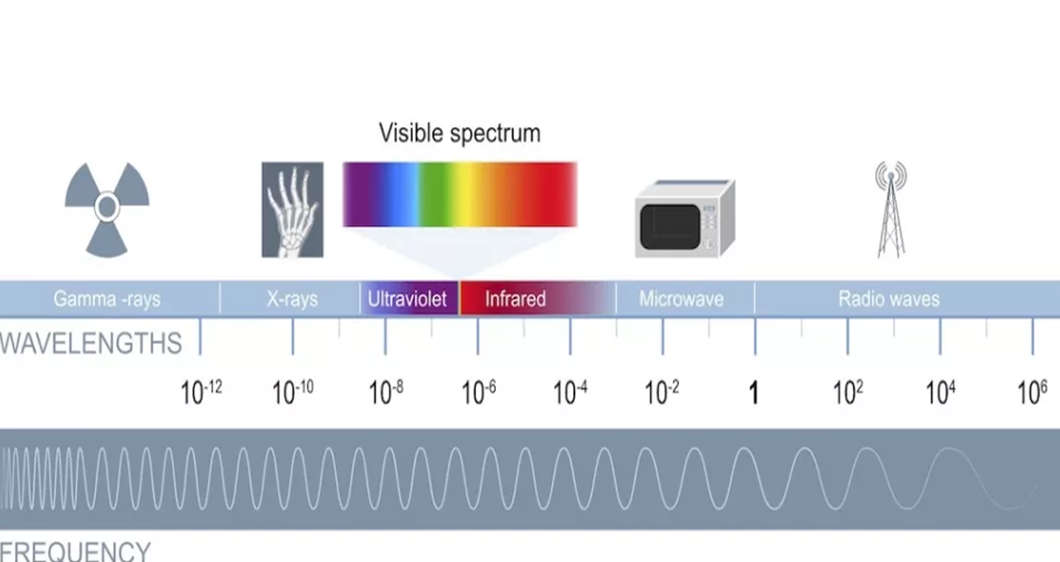 THE RADIO WAVES –
They can be seen in the wavelength range of 100 to 106.
They are at the lowest range of the electromagnetic spectrum, with frequencies of up to about 30 billion hertz, or 30 gigahertz (GHz), and wavelengths greater than about 0.4 inches (10 millimeters).
Radio is used primarily for communications, including voice, data, and entertainment media.
Radio waves are usually produced by radio transmitters and can be received by radio receivers. Radio waves having different frequencies contains various characteristics of propagation in the Earth's atmosphere.
The long waves get diffracted around different obstacles and follow the outline whereas the short waves reflect the ionosphere and get back over the horizon of sky waves.
The propagation distance of both waves is limited to the visual horizon as short wavelengths bend or diffract little and travel in a line of sight.
BANDS OF RADIO WAVES:
| Band | Frequency Range | Wavelength Range |
| --- | --- | --- |
| Extremely Low Frequency (ELF) | <3 kHz | >100 km |
| Very Low Frequency (VLF) | 3 to 30 kHz | 10 to 100 km |
| Low Frequency (LF) | 30 to 300 kHz | 1 m to 10 km |
| Medium Frequency (MF) | 300 kHz to 3 MHz | 100 m to 10 km |
| High Frequency (HF) | 3 to 30 MHz | 10 m to 100 m |
| Very High Frequency (VHF) | 30 to 300 MHz | 1 to 10 m |
| Ultra High Frequency (UHF) | 300 MHz to 3 GHz | 10 cm to 1m |
| Super High Frequency (SHF) | 3 to 30 GHz | 1 to 1 cm |
| Extremely High Frequency (EHF) | 30 to 300 GHz | 1 mm to 1 cm |
While the ionosphere is not important for high frequencies, the variation of refractive index in the atmosphere is important over distances greater than about 10 km.
Radio waves having a frequency in the middle range between 3 and 30 MHz may be influenced by all features along the path.
When one or both ends of the communication link are located near the ground, the atmosphere, terrain variation, vegetation, and buildings influence the received signal.
Besides the dependence on the separation between transmitter and receiver, these features affect signal characteristics such as spatial and temporal fading, frequency dependence, and echo-induced time delay spread.
LOWER TO MIDDLE FREQUENCY:
LF and MF radio bands include marine and aviation radio, as well as commercial AM (amplitude modulation) radio, according to RF Page.
AM radio frequency bands fall between 535 kilohertz to 1.7 megahertz, according to How Stuff Works.
AM radio has a long-range, particularly at night when the ionosphere is better at refracting the waves back to earth, but it is subject to interference that affects the sound quality.
When a signal is partially blocked — for example, by a metal-walled building such as a skyscraper — the volume of the sound is reduced accordingly.
HIGHER FREQUENCY:
HF, VHF, and UHF bands include FM radio, broadcast television sound, public service radio, cellphones, and GPS (global positioning system).
These bands typically use "frequency modulation" (FM) to encode or impress, an audio or data signal onto the carrier wave.