It is a general-purpose PNP family-based bipolar junction transistor.
BJT is a switching and amplification device.
The transistor amplification range from 110 to 800, which calculates the amplification capacity of the transistor.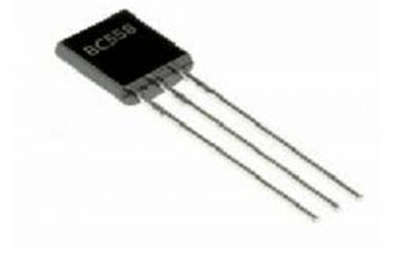 Working of BC558 Transistor
The BC558 transistor work in forwarding bias then there is no flow of current at the base terminal and the other terminal emitter and collector will be closed. so the transistor is in ON condition.
When the transistor is in reverse condition, then the current flow through the base terminal, and the remaining terminal will be opened (emitter and collector). so the transistor is OFF condition.
If the base terminal is negative then both the emitter and collector terminal will be positive.
Pin Configuration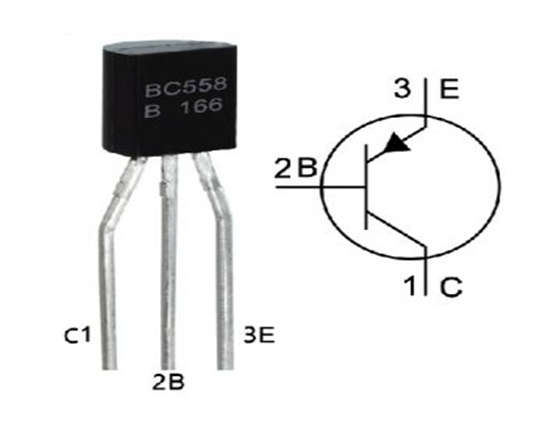 | Pins | Description |
| --- | --- |
| Pin1 (Collector): | This terminal allows the flow of current |
| Pin2 (Base): | The transistor biasing can be controlled through this pin |
| Pin3 (Emitter): | This pin drains out the flow of current |
Application of BC558 Transistor
The application of BC558 transistor is Signal amplification, Darlington pair, Audio amplifier, Any type of signal amplification, Preamplifier, Design audio circuits.
It is used to drive different loads < 100mA, Used as an amplifier, and Used in different driver modules such as LED driver, relay driver, etc.
It is used in amplifier modules such as signal amplifiers, audio amplifiers, switching & amplification purposes, and Used for controlling the motor.
It is used in different circuits like a current mirror, oscillator, comparator & H- Bridge.
It is used to design multi vibrators like as table.