NOLO Sonic VR uses Nordic's nRF52833 SoC to wirelessly connect handheld controllers and headset via Bluetooth LE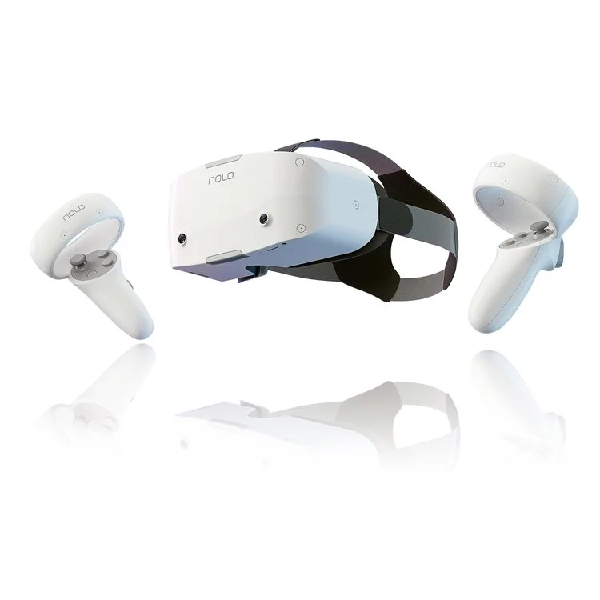 Nordic Semiconductor today announces that NOLO, a Beijing, China-based VR/AR technology company, has selected Nordic's nRF52833 Bluetooth® 5.2/Bluetooth Low Energy (Bluetooth LE) general purpose multiprotocol System-on-Chip (SoC) to provide the wireless connectivity for its 'NOLO Sonic VR'. The six-degrees-of-freedom (6DoF) virtual reality (VR) solution supports 'SteamVR' streaming, providing users with access to more than 6000 SteamVR games, as well as compatibility with other mobile VR games and a range of educational and training applications.
NOLO Sonic VR features a VR headset and two interactive controllers all integrating the Nordic nRF52833 SoC. According to the company the controllers are the first VR interactive controllers equipped with a wide frequency vibration motor enabling them to simulate hundreds of realistic haptic feedback effects. They also support 'real time' heart rate monitoring (HRM), while the company's proprietary 'SodarTraq' tracking system employs ultrasonic technology for precise positional tracking.
Nordic's nRF52833 SoC is an ideal solution for NOLO Sonic VR due to the chip's ability to meet core processing and RF requirements without sacrificing power consumption

Jianing Zhang, NOLO
Low latency Bluetooth LE
Nordic's nRF52833 SoC not only provides the low latency (<10ms) Bluetooth LE connectivity to relay data from the controllers to the headset device, but also the processing power to support the controller's vibration motor data processing requirements. The nRF52833 SoC's 64MHz, 32-bit Arm® Cortex® M4 processor with floating point (FP) unit is designed to support the FP and Digital Signal Processing (DSP) computations typical of high-end wireless applications such as VR. Its radio architecture with on-chip PA provides -95dBm RX sensitivity (at 1Mbps in Bluetooth LE mode) helping to ensure robust connectivity between the controllers and headset, while at the same time significantly extending the battery life of the controllers between recharge.
Nordic's nRF52833 advanced multiprotocol SoC combines the Arm Cortex processor, with a 2.4GHz multiprotocol radio (supporting Bluetooth 5.2, Bluetooth 5 (including 2x on-air raw data bandwidth (2Mbps); 4x range; 8x broadcasting ability with advertising extensions that increase the advertising packet payload size to 251 bytes, and an improved Channel Selection Algorithm (CSA #2) compared with Bluetooth 4.2), Thread, Zigbee, IEEE 802.15.4, and proprietary 2.4GHz RF protocol software). The nRF52833 features generous 512kB Flash memory and 128kB RAM. The Dynamic Multiprotocol feature uniquely supports concurrent wireless connectivity of the protocols.
The nRF Connect SDK [Software Development Kit] is recommended for nRF52833 software development. The nRF Connect SDK integrates the Zephyr RTOS, supports applications using Bluetooth LE, Bluetooth mesh and Thread, and includes examples, Bluetooth LE profiles and driver support for all peripherals. The SDK also includes a migration of Nordic's Bluetooth SoftDevice Controller from the company's proven SoftDevices used with the nRF52 Series. The nRF5 SDK can still be used for development with Nordic's S113, 122 and 140 SoftDevices Nordic's Bluetooth RF protocol stacks.
Core processing and RF requirements
"Nordic's nRF52833 SoC is an ideal solution for NOLO Sonic VR due to the chip's ability to meet core processing and RF requirements without sacrificing power consumption," says Jianing Zhang, Chief Technology Officer, NOLO.
"Nordic provides a complete SDK that has allowed our development to be faster and more efficient, in turn allowing us to quickly launch other new products. Nordic also provides a lot of useful reference designs and detailed technical information."