The embedded system solutions company exceeded expectations yet again in the first quarter. Here's what investors need to know.
Cypress Semiconductor Corporation (NASDAQ:CY) announced first-quarter 2017 earnings on Thursday after the market closed, and shares of the embedded-semiconductor specialist declined almost 3% Friday as a result. But keeping in mind that Cypress Semiconductor stock did so after hovering near a 52-week high over the past few weeks — shares are still up nearly 60% over the past year as of Friday's close, after all — that doesn't mean investors shouldn't be pleased with its performance.
Let's look at how Cypress Semiconductor started the new year, then, as well as what investors can expect going forward.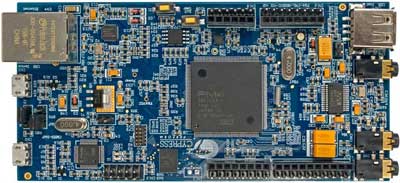 What happened with Cypress this quarter?
On an adjusted (non-GAAP) basis — which excludes items such as acquisition expenses and stock-based compensation — Cypress' net income was $45.9 million, or $0.13 per share, up from adjusted net income of $23 million, or $0.07 per share, in the same year-ago period.
By comparison, however, Cypress' latest guidance called for lower revenue of $495 million to $525 million, and lower adjusted earnings per share of $0.09 to $0.13.
Adjusted gross margin was 39.3%, down from 40.1% last quarter and slightly above guidance for 39%.
Revenue by business segment included:

8% sequential growth from the microcontroller and connectivity division, to $317.9 million.
A 9% sequential decline from the memory products division, to $214 million.

On a geographic basis:

Japan represented 21% of total sales, flat from last quarter.
Europe generated 13% of sales, up from 11% last quarter.
The Americas generated 11% of sales, flat from last quarter.
The China and "rest of world" division was 55% of total sales, down from 57% last quarter.

Cypress divested its Minnesota semiconductor wafer-fabrication facility in early March for $30 million, allowing it to reduce costs and its manufacturing footprint, increase utilization of its Austin, Texas, fab, and improve gross margin.
What management had to say
Cypress CEO Hassane El-Khoury said:
Cypress delivered record revenue in the first quarter that exceeded the high end of our guidance range. We saw above seasonal growth in our microcontroller and connectivity division and strength in our memory products which exceeded our expectations. Our wireless connectivity grew 30% from the fourth quarter of 2016, and automotive revenue hit a new quarterly record. These results highlight the strong demand for our expanding portfolio of embedded systems solutions and the continued success of our Cypress 3.0 strategy to target markets growing faster than the overall semiconductor industry.
Looking forward
For the second quarter, Cypress Semiconductor expects revenue in the range of $530 million to $560 million, adjusted gross margin of 40% to 41%, and adjusted earnings per share of $0.14 to $0.18. By comparison — and though we don't usually pay close attention to Wall Street's expectations — analysts' consensus estimates predicted roughly the same adjusted EPS on lower revenue of $534.2 million.
In the end, this was another strong quarter of moderate outperformance from Cypress Semiconductor as it chases the most promising incremental growth opportunities its industry has to offer. In doing so, Cypress should remain well positioned to continue delivering market-beating returns going forward.