16th February 2021 – Further progressing its goal of making battery-less technology more commonplace, e-peas has gained another big win for its energy harvesting power management ICs (PMICs). These PMICs will now play a major part in facilitating the development of devices using printed organic photocells produced by innovative Swedish manufacturer Epishine.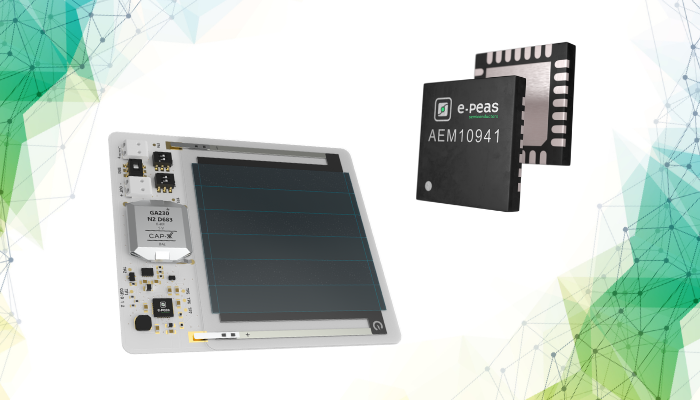 The new evaluation kit demonstrates how Epishine's advanced Light Energy Harvesting (LEH) modules can be employed to power electronic hardware in low-light indoor environments (even below 50lux), so that there is no longer a need for the inclusion of batteries. In addition to the Epishine module with its 6 LEH photocells, each evaluation kit features an e-peas AEM10941 PMIC, which provides intelligent charging functionality. Integrating a boost regulator plus two LDOs, the AEM10941 delivers a current to the 400mF GA230 supercapacitor provided by CAP-XX. The PMIC also helps to regulate the output. Thanks to its ultra-low cold-start threshold, the system can quickly be activated again even when the supercapacitor has been fully discharged. All that is needed is a photocell input voltage of 380mV and just 3µW.
Epishine, CAP-XX and e-peas will present a webinar 'Eliminate Batteries with Indoor Light Energy Harvesting and Supercaps' on 3rd March at 5pm CET (4pm UK, 11am ET, 8am PT). To register go to: https://e-peas.com/news/eliminate-batteries-with-indoor-light/
The compact Epishine evaluation kit (which has 81mm x 71.5mm x 3.8mm dimensions) will support output voltages ranging from 1.8V to 3.3V, adjustable to voltage increments of as little as 100mV. By discharging its CAP-XX supercapacitor, this development solution can deliver a 80mA output current, which may be used to power a radio transceiver (such as BLE, Zigbee or LoRa). It's also possible to connect a back-up battery if required.
The photocells developed by Epishine, which are printed onto recyclable plastic, provide a highly cost-effective method for converting light energy into electricity. The technology allows for high indoor performance and enables organic photovoltaics to push towards what is expected of far more expensive GaAs-based units. This opens up new applications that would not have previously been commercially viable. Among the numerous opportunities that these evaluation kits will allow customers to explore are IoT and building automation. There is also clear potential in wearables devices and electronic shelf labels for retailers.
"We've been collaborating with e-peas for the last 8 months and have been impressed with the capabilities of the AEM10941 chip to support minimal currents and quick cold-start. This has meant we can extract energy from the surrounding environment, even in the lowest of light conditions," states Mattias Josephson, co-founder and VP of Business Development at Epishine. "Furthermore, the rich feature set makes it ideal in our evaluation kit, helping to show the many ways to implement light energy harvesting in IoT products"
"The combination of Epishine's next generation photocell technology, CAP-XX's supercapacitor and e-peas power management expertise has resulted in a solution that can address extremely low levels of illumination, such as those found in indoor settings," adds Geoffroy Gosset, CEO at e-peas. "Via this development platform, engineers can initiate prototyping for a wide array of products reliant on energy harvesting which would otherwise have been impossible using conventional hardware."
"The very efficient e-peas power management IC is crucial to the Epishine evaluation module for its ability to harvest very low amounts of indoor light to charge CAP-XX's 99% charge efficient ultra-thin supercapacitor, thereby often eliminating the need for a battery," stated Anthony Kongats, CEO at CAP-XX. "Our three companies share the mission to enable battery-free IoT and monitoring devices that will operate for many years without battery replacement, and to dramatically improve product reliability and reduce ownership costs."