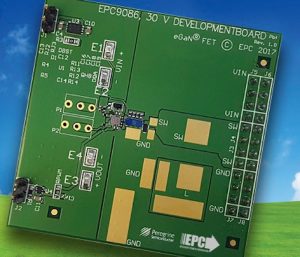 Efficient Power Conversion Corporation (EPC) has announced the availability of the EPC9086, a high efficiency half-bridge development board that can operate up to 10 MHz. The EPC9086 board measures 2inches x 2inches and contains a 30V, 15 A EPC2111 enhancement-mode GaN half bridge in combination with the recently introduced PE29102 gate driver from Peregrine Semiconductor.
The purpose of this development board is to reduce time to market by simplifying the evaluation process of the EPC2111 eGaN by including all the critical components, such as Peregrine's PE29102 high-speed gate driver on a single board that can be easily connected into any existing converter.
According to Mark Moffat, director of Peregrine Semiconductor's power management product line: "The PE29102 is an integrated high-speed driver specifically designed to control the gates of high switching-speed external power devices, such as eGaN FETs."
The outputs of this driver can provide switching transition speeds in the sub-nanosecond range with optimised matched dead time and offers best-in-class propagation delay for hard switching applications up to 40 MHz, thus enabling the high performance of GaN power transistors. The PE29102 provides minimum pulse widths of 5ns and is offered as a 2 x 1.6 mm flip chip die, enabling a small form factor power stage for high duty cycle power conversion at high frequency.
This board may be used for applications where high frequency can enable a significant size and height reduction such as notebook and tablet computing. The EPC9086 has been evaluated in a 12 V to point-of-load DC-DC converter application and achieved efficiency levels of 86 percent at 10 A when switching at 5 MHz and over 80 percent when switching at 10 MHz.
The boards are priced at $118.75 each and available for immediate delivery from Digi-Key.