Many modern IoT applications rely on fingerprint sensors for added safety and security, and to easily identify users. Fingerprint sensors are widespread in smartphones and other wearables, as well as in the smart industry and smart home applications for entry identification and data security. The two most common fingerprint sensors in use today are optical sensors and capacitive sensors.
A fingerprint scanner is a type of electronic security system that uses fingerprints for biometric authentication to grant a user access to information or to approve transactions.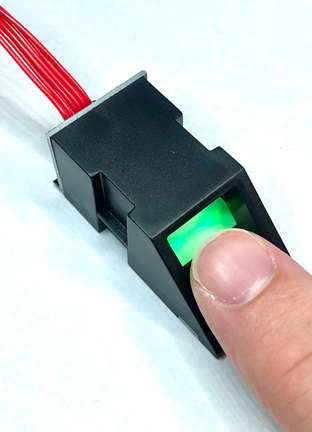 Fingerprint scanners work by capturing the pattern of ridges and valleys on a finger. The information is then processed by the device's pattern analysis/matching software, which compares it to the list of registered fingerprints on file. A successful match means that an identity has been verified, thereby granting access. The method of capturing fingerprint data depends on the type of scanner being used
Optical Sensor:
These types of scanners make a photocopy of the finger. Many illuminate the finger to deliver crisp contrast of lines as the light-sensitive scanner (usually an image sensor or light-sensitive microchip) records the information to produce a digital image. Many PC-connected fingerprint scanners use optical sensors.
Capacitive Sensor:
Instead of light, capacitive scanners use electricity (think of the way touchscreens work) to determine fingerprint patterns. As a finger rests on the touch-capacitive surface, the device measures the charge; ridges exhibit a change in capacitance, while valleys produce practically no change at all. The sensor uses all this data to accurately map out prints. Most all smartphones with fingerprint scanners use capacitive sensors.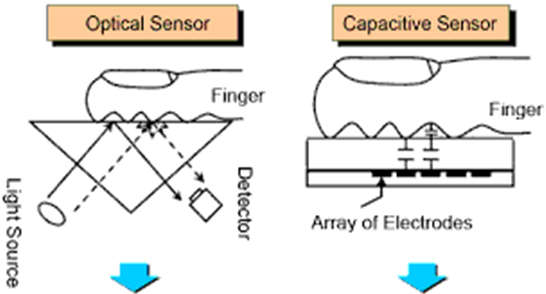 Ultrasonic Sensor:
Similar to how bats and dolphins use echolocation to find and identify objects, ultrasonic scanners work via sound waves. The hardware is designed to send out ultrasonic pulses and measure how much bounces back. Ridges and valleys reflect sound differently, which is how ultrasonic scanners can create a detailed 3D map of fingerprint patterns. Ultrasonic sensors are currently being prototyped (e.g. by Qualcomm Technologies, Inc.) and tested for use in a mobile device.
Features of Fingerprint Sensor
It includes image collection as well as chip algorithm.
The fingerprint reader can perform lesser growth and can be fixed into a range of end products.
Power use is low, excellent performance, small in size, and less cost.
Optical technology which is used is professional, and exact module developed techniques.
The capabilities of image processing are good, and can effectively capture pictures up to 500 dpi resolution.
Advantages of Fingerprint Sensor
You can provide physical evidence of yourself.
This type of identity cannot be easily faked like identity cards.
Though you can guess the password of another person, it cannot be done so in the case of a fingerprint.
You may lose your identity card. But, you are not going to lose your fingerprint. The same will be the case for a password.
Disadvantages of Fingerprint Sensor
An optical scanner can be fooled by showing a picture of a finger instead of a real finger. Capacitance scanners can also be fooled by swiping a mold of a finger by including ridges and valleys. If it is some serious business, a thief could also cut off the person's finger and swipe it on the scanner.
If you have misplaced your credit card you can easily get a new one. But, if someone has molded the same fingerprint as yours, there is no way to replace it.