What is a Fusible Resistor? Why is it used?
Fusible resistor is a linear type thick film resistor. It is also called by other names such as current limiting-limiting resistors, fuse resistor, flameproof resistor, and meltdown resistor and is known for its low power rating and is designed to melt when a certain amount of current flows through it, thus breaking an electrical circuit.
The fusible resistor works as a normal resistor under normal conditions but opens under fault conditions. It is designed to burn open easily when the power rating of the resistor is exceeded and is temperature sensitive device.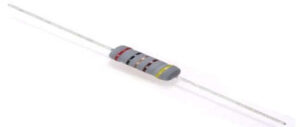 If the resistor has too much current applied to it, it will short out and the resulting heat will cause the fusible resistor to melt, encapsulating the melted material, and the symbol for the fusible resistor is shown below.

It is built by depositing a film onto a ceramic substrate using film technology. This consists of a high resistance wire winding over a non-inductive ceramic core and the core is coated with a special glaze this entire system is encapsulated in a tough non-hygroscopic resin or epoxy case.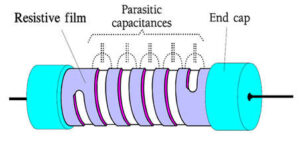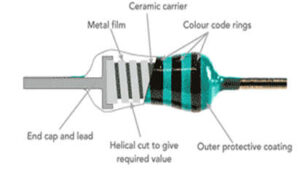 Circuit Diagram of Fusible Resistor
The fusible resistor can be used in many applications, for example, the power supply or charger can be one of the applications. The function of the fusible resistor is to control or restrict the incoming overflow of current. So this resistor is used as the overcurrent component within the charger or power supply circuit that can have 10ohms of resistance.
By using fusible resistors, we are saving space instead of using separate thermistors & fuses for restricting the overflow of current but they need spacing as they produce heat.
When power supplies, as well as chargers, need to be in small, then compact packages & the necessary spacing in the region of the fusible resistors could leave the designer of a circuit with insufficient space for the whole design.
The value of the fusible resistor can be calculated using the following
First of all consider the supply voltage and the output current required.
Find the appropriate power rating for your resistor, based on whether it will be in series or parallel with your circuit. This can be done by multiplying voltage by current and then dividing by 2 (for series) or 1 (for parallel).
Determine the maximum current that will flow through it. You can calculate this using Ohm's law which states that
V = I x R,
where, V = voltage.
I = current.
R = resistance.
For example, if your voltage is 14 volts and your desired resistance is 10 ohms, then the current through your fusible resistor would be 1.4 amps.
Applications Fusible Resistor
Electrical circuits that could occasionally be subjected to short circuit conditions for a brief period use fusible resistors. In the event of a short circuit, they will blow out similar to a fuse, shielding the circuit from harm and fire.
Motor controller systems, automobiles, power supplies, rectifiers, inverters, home appliances, power tools, and other equipment all use fusible resistors.
The main advantage of employing this resistor is that it reduces inrush current because of its resistance function.
The major above current component of a power supply or charger is this resistor.
A fusible resistor has two purposes. It functions as a resistor restricting current once the power source is exceeded. Similar to this, whenever the power rating is surpassed, then It functions as a fuse in the circuit to protect various circuit components from excessive current.