electronica virtual 2020: Infineon presents tailored sensor solutions for smart buildings and life in the future
Munich, Germany –5November 2020 – At the virtual electronica starting 10November 2020, Infineon Technologies AG (FSE: IFX / OTCQX: IFNNY) will present the company's sensor portfolio with a focus on smart buildings and consumer life in the future. Products and application examples will be digitally presented and explained in detail, including presentations, e-learnings, infographics, videos, 360° views and useful downloads. After the live program ends on 12 November, all information on the sensor highlights will be available on demand.
Measure what matters – Fighting COVID-19 with reliable CO2 detection
Due to the coronavirus SARS-CoV-2, the observation of indoor air quality has become more important. CO2 is a key parameter for indoor air quality that correlates directly with the aerosols through which the virus is transmitted. Smart ventilation and warning systems equipped with the XENSIV™ PAS CO2 sensor from Infineon can help reduce the risk of an infection due to indoor airborne transmission. They warn of poor air quality or provide the necessary fresh air supply. But even regardless of the pandemic, the measurement of the sensor will improve the awareness for indoor air quality and thus increasewell-being and productivity– whether in the office, at school or at home.
Based on photoacoustic spectroscopy (PAS), the XENSIVPAS CO2 measures the CO2 content in the room air extremely precisely. It uses a highly sensitive acoustic detector, designed especially for low frequencies.The PAS principle enables a significant reduction in size by up to 75 percent space compared to conventional CO2 sensors. The directly emitted ppm values and the optimized design allow easy and fast integration, which is ideal for high-volume production applications.
Evaluation boards for the XENSIV PAS CO2 sensor are now available for main customers.They will be orderablevia distributors starting in the first half of 2021. The XENSIV PAS CO2 sensor itself will be available via distributorsby mid 2021. Evaluation boards (evaluation kit, Arduino-Shield2Go, Adafruit-Wingboard/Featherboard) as well as drivers and documentation including application notes are provided for comprehensive design-in support.
60 GHz radar sensor for precise motion detection
To control the various elements of a smart buildingoptimally, such as ventilation,lightingsystems, screens, automatic doors, smart home devices, or security systems including cameras, the devices must be able to detect motions in thesurroundingsaccurately. For this, Infineon has developed a highly integrated autonomous 60 GHz radar sensor solution enhancing system control by sensitive motion detection.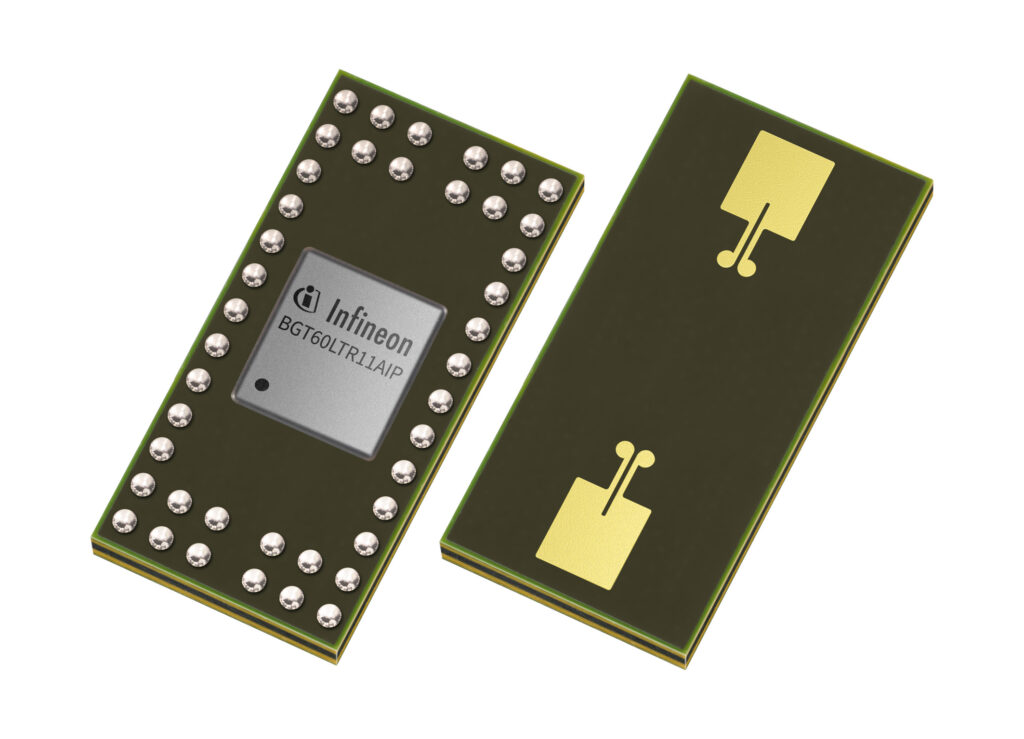 The radar demo board with the XENSIV BGT60LTR11AIP from Infineon is a fully integrated microwave motion sensor with built-in antennas. The all-in-one solution comes in a size and cost-efficient package and does require neither RF expertise nor external signal processing when implemented. Therefore, it simplifies the design-in and shortens the time to market. The BGT60LTR11AIP offers numerous advantages over classic PIR-based motion sensors such as higher sensitivity, which enables to detect smallest movements and proximity direction. Radar also allows detection through non-metallic materials, allowing for design flexibility for the end product.
The radar demo kit BGT60LTR11AIP can be ordered now, the single chip will be available in spring 2021.
Predictive maintenance in cooperation with Klika Tech and Amazon Web Services
Sensor systems also play an important role in monitoring the condition of equipment in smart buildings to enable predictive maintenance. Mounted inside or outside the respective devices, they collect data on a variety of different parameters that reflect the operating status of the devices. Examples are airflow monitoring with barometric air pressure sensors in heating, ventilation and air conditioning (HVAC) devices, current measurement in motor drives with current sensors or the detection of sound anomalies and vibration measurements with MEMS microphones.
This allows deviations from the defined, optimal condition to be detected early and in real time and maintenance to be triggered in time. Thus, unforeseen failures, which can lead to high costs, lower productivity, equipment downtime or even health problems for employees and customers, can be prevented.
With this in mind, Infineon has built a demonstrator for condition monitoring and predictive maintenance of HVAC systems. The demonstrator was developed in cooperation with Klika Tech and uses Amazon Web Services (AWS). It demonstrates the immense potential of sensors for condition monitoring and predictive maintenance of smart buildings.
In order to enable situation-dependent functions, these smart HVAC units also use the above-mentioned CO2 and radar sensors, which create more contextual awareness. This can significantly improve energy efficiency by eliminating the need for unnecessary continuous operation.
Further information is available atwww.infineon.com/CO2, www.infineon.com/60GHz, www.infineon.com/predictivemaintenance.
To register for Infineon's virtual electronica 2020 please click here.