According to a recent study from market research firm Global Market Insights,The intelligent power module market is expected to register sizable growth over the coming years as a result of rising adoption in electric motor drives for aircrafts and power converters. With features like high performance, low noise radiation, increased power density and small footprint, aircraft manufacturers are utilizing IPMs to decrease system cost and obtain small footprint packages needed in avionics.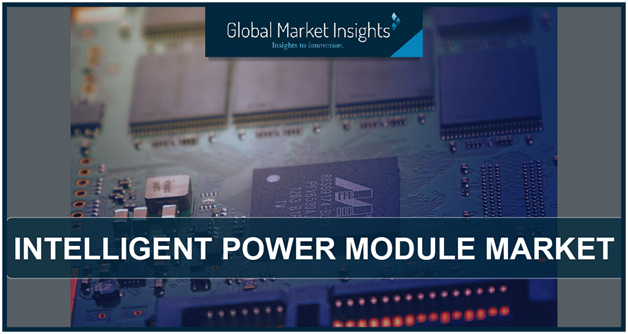 Meanwhile, IPMs with a current rating of up to 10A are gaining application in hydronic pumps, drain pumps & compressor control systems of washing machines, air conditioners, refrigerators, and kitchen hoods. Use of emerging technologies such as IoT and AI in automated machinery, along with robust investments in different sectors is estimated to augment IPM industry outlook over time.
Companies operating in this landscape are vesting in R&D and new product innovations. Adding to this, in 2019, leading IPM maker, Mitsubishi Electric Corporation announced the launch of Super mini DIPIPM Ver.7, its new high-performance intelligent power module consisting of low power consumption and reduced radiation noise for air conditioners and other small-capacity motor drives.
Fuji Electric is a leading developer of IGBT modules that are presently used in the power electronic systems of today, which includes renewable energy systems, HVAC, uninterruptable power supplies, variable-speed drives, and power converters.
The newest intelligent power module market modules are equipped with a control IC providing protection circuits and IGBT drive, further ensuring high system reliability, along with making the design of peripheral circuits more simple.
In terms of application, the renewable energy application segment is earmarked to witness remunerative revenue growth.
In 2019, the segment accounted for a market share of nearly 15% and is further expected to grow at a CAGR of around 8% through the forecast time period. This anticipated growth is ascribed to the increasing adoption of IPM in solar power plants and photovoltaic systems. Rising government initiatives as well as investments towards the adoption of renewable energy resources will further influence the demand for intelligent power modules. This is likely to offer the segment a number of viable revenue streams, including motor controls, solar power plants, and wind turbines among others.
On the geographical front, the Europe intelligent power module market held a market share of nearly 20% in 2019 and is slated to grow at a CAGR of around 7% over the forthcoming time period. The regional growth is mainly ascribed to the presence of a well-established EV (electric vehicle) charging station network in Europe.

These EV charging stations and battery-power establishments have a huge demand for IPMs owing to their superior features like conversion of DC/DC for decreasing power losses, precise sensing of power outputs, and fast charging. Thus, the rising penetration of electric vehicle charging stations across Europe is anticipated to drive the intelligent power module market growth over the coming years.
Key Companies covered in intelligent power module marketare CISSOID, Fuji Electric Co. Ltd, Future Electronics, Infineon Technologies AG, Microsemi, Mitsubishi Electric Corporation, On Semiconductor Corporation, Powerex Inc., Renesas Electronics Corporation, ROHM Co., Ltd, Sanken Electric Co., Ltd, Semikron, Sensitron Semiconductor, silentknight (Honeywell), STMicroelectronics N.V, Texas Instruments Incorporated, TOSHIBA ELECTRONIC DEVICES & STORAGE CORPORATION, Vincotech GmbH.
Source: https://www.gminsights.com/pressrelease/intelligent-power-module-market