The LM358 has two independent high gain operational amplifiers, as well as low power, dual channel op-amp with internal frequency compensation. To operate both op-amps in the LM358, a single power supply will be required. A split power supply can also be used. The device's power supply voltage is low.
The LM358 integrated circuit can also be used as a transducer standard operational amplifier, which is appropriate for our needs. It can handle voltages ranging from 3V to 32V DC and currents of up to 20mA per channel. It has 8 pins and contains two operational amplifiers.
This IC contains two operational amplifiers that can be used as a comparator. LM- Because of its low power consumption, the LM358 is an excellent choice for battery operation. In general, we obtain signals from sensors that have a low rating. We can't do anything with this rating, for example, 0.3V from the sensor. We can't turn on or off a led or relay with 0.3V. The LM-358 IC receives the sensor signal and compares it to the reference voltage. The IC will then determine whether the voltage is greater or less than the reference voltage by providing an output of high or low.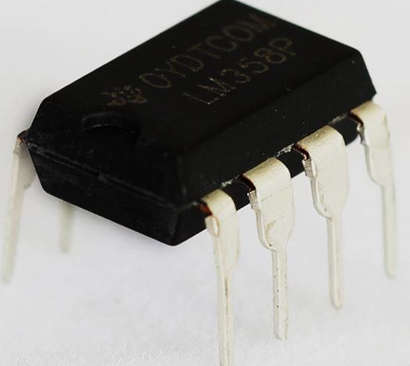 The LM358 is a versatile device that can be used as a comparator to compare different signals, an amplifier to amplify signals from a variety of transducers or sensors, or any op-amp function.
The LM358 IC is a great dual-channel op-amp IC that is low power and simple to use. National semiconductor designed and introduced it. It is made up of two independent, internally frequency compensated, high gain op-amps.
This IC is specifically designed to operate over a wide range of voltages from a single power supply. The LM358 IC comes in a chip-sized package, and its applications include conventional op-amp circuits, DC gain blocks, and transducer amplifiers.
The LM358 IC is a good, standard operational amplifier that will meet your requirements. It can accept 3-32V DC power and source up to 20mA per channel. If you want to operate two separate op-amps from a single power supply, this op-amp is ideal. It comes in an 8-pin DIP package.
Pin Configuration of LM358 IC
The LM358 IC has 8 pins, with Pin-1 and Pin-8 serving as the comparator's o/p.
Pins 2 and 6 are inverting i/ps.
Pins 3 and 5 are non-inverting i/ps.
Pin-4 is the GND terminal, and Pin-8 is the VCC+ terminal.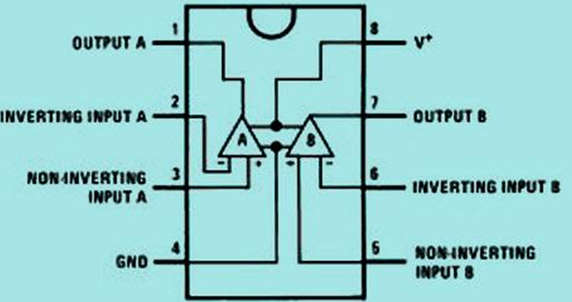 Features of LM358 IC
Internally, it is made up of two op-amps that are frequently compensated for unity gain.
The significant voltage gain is 100 db.
1MHz is a wide bandwidth.
The wide power supply range includes single and dual power supplies.
The single power supply has a voltage range of 3V to 32V.
The voltage range of dual power supplies is + or -1.5V to + or -16V.
The supply current drain is extremely low, with a 500 A 2mV low i/p offset voltage.
The common mode i/p voltage range includes ground.
The power supply voltage and differential i/p voltages are comparable, but the o/p voltage swing is significant.