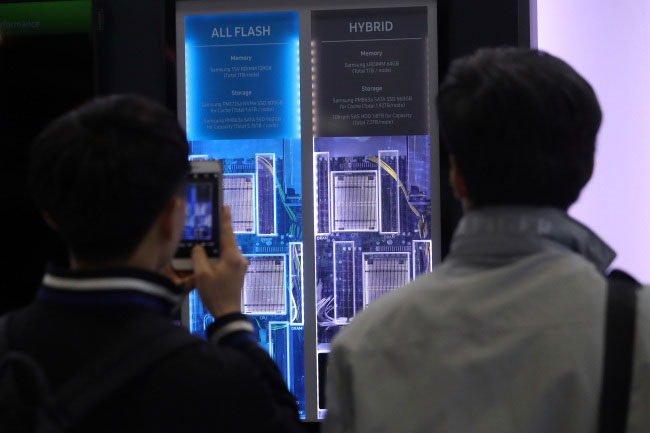 While the semiconductor industry is chugging along the otherwise gloomy South Korean economy, concerns are being raised that the global demand surge may hit a wall next year.
The local memory market has been heavily influenced by supply shortages driving the surge in global demand. However, experts are now forecasting that new capital injections by semiconductor companies such as Samsung Electronics and SK hynix will lead to a reversal of supply and demand.
On the back on increased supply numbers and the penetration of Chinese companies into the chip market, market research firm IHS Markit predicts that the price of memory semiconductor sales will decrease next year, while Samsung Securities Co. forecasts the sector will likely slide downward as soon as the middle of next year.
South Korea's fab investment this year has been assessed at $12.97 billion, up 68.7 percent from last year, and has outpaced the $12.73 billion for Taiwan, which had been No. 1 for the past five years, according Semiconductor Equipment and Materials International.
Samsung Electronics and SK hynix, the world's leading semiconductor manufacturers, announced last month they would invest a combined 36.9 trillion won ($32.8 billion) in the industry by 2024. Samsung, the world's leading chip provider, revealed the company plans to invest 21.4 trillion won, while SK hynix is set to invest 15.5 trillion won in the country's burgeoning flash memory chip sector.
Aside from increased future supply, the strong foray of Chinese companies into the memory market is also considered to be a large threat to the local chip industry.
China currently sits as the world's No. 3 chipmaker behind Korea and Taiwan. However, Chinese companies are currently investing heavily in technological development and large-scale facility investments, backed by full governmental support to become the leading competitors in the industry.
SEMI, a global electronics supply chain association, released a forecast earlier this year predicting China's equipment sales will climb the most at 61.4 percent and will overtake Taiwan for the No. 2 spot by next year.