The KSP2222A is an equivalent and direct replacement for the 2N2222A transistor. It is an NPN bipolar general-purpose transistor utilized in a variety of applications.
The collector current Ic and the collector-to-emitter voltage VBE of the two NPN transistors differ, but their other characteristics remain the same.
Since the KSP2222A is an NPN transistor when the base pin is held at the ground, the collector and emitter are left open (reverse biased), and when a signal is applied to the base pin, they are closed (forward biased).
The KSP2222A's gain value, which ranges from 100 to 300, regulates the transistor's ability to amplify signals. We cannot use this transistor to connect loads that require more current than 600mA since the maximum amount of current that can pass via the Collector pin is 600mA.
To bias a transistor, we must supply current to its base pin, and this current (IB) should be kept to a maximum of 5 mA.
Where to use KSP2222A Transistor?
The widely used NPN transistor BC547 and the KSP2222A are very similar transistors. But both differ from one another in two key ways. KSP2222A can drive greater loads than BC547 since it has a power dissipation of 625mW and a collector current limit of 600mA. Additionally, it includes a 40V Collector Emitter Open Voltage (CEO).
Therefore, KSP2222A can be the best option for your project if you're seeking an NPN transistor that can switch loads of higher current.
How to use KSP2222A Transistor?
Since the 2N2222A transistor and the KSP222A transistor are both general-purpose transistors that can be used in a wide range of applications, they can be directly substituted for one another.
The only differences between the two transistors' properties are their Continuous Collector Current (IC)rating and Collector-Emitter Voltage (V¬BE). This type of transistor is typically employed as an amplifier or a switch, both of which are detailed below.
Transistor as a Switch
Being a switch is one of a transistor's most basic and default functions. It is very comparable to a mechanical switch, except in this case the switch will be controlled by electric impulses. Below is a very simple circuit diagram where an NPN transistor is used to turn a load ON or OFF (Motor).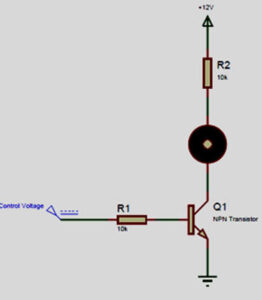 The resistor values in the figure above are simply shown for reference and are not exact. When driving a transistor, the resistor R1, also known as the base resistor, is crucial since it restricts the base current.
If one is not used, the transistor could sustain long-term damage. When the voltage across the Base and Emitter pins surpasses 0.6V, the transistor will start to conduct; this voltage is referred to as the threshold voltage. The resistor R2 is optional but is used to restrict the current flowing through the transistor's collector.
Transistor as Amplifier
Amplification is another typical use of transistors. Gain hFE is a property of every transistor that can be exploited to boost voltage or current. An NPN transistor is utilized in common emitter amplifier mode in the circuit schematic below. Transistors allow for a wide variety of amplifier circuit designs, but this is the one that is most frequently employed since it excels at boosting low-frequency voltage signals, such as audio signals.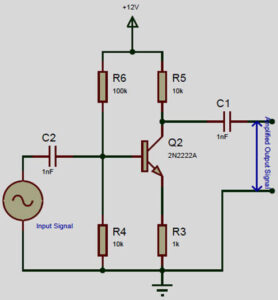 You must construct your circuit based on the application and transistor you are using; the resistor values provided above are simply for reference (frequently used).
The Emitter and Base pins of the transistor should be linked to the same voltage in this type of circuit, thus we have connected them to the Ground potential using two resistors, R4 and R3. The potential divider network made up of the resistors R4 and R6 provides the voltage necessary to bias the transistor's base pin.
The only usage of the capacitors C1 and C2 is for filtering. Op-Amps, which are nothing more than a package of many transistors assembled with amplification as their main purpose, should be considered if you are searching for some significant amplification applications because this sort of amplifier has many disadvantages.
Pin Configuration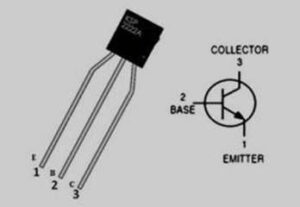 | Pin No. | Pin Name | Description |
| --- | --- | --- |
| 1 | Emitter | Current Drains out through emitter |
| 2 | Base | Controls the biasing of transistor |
| 3 | Collector | Current flows in through collector |
Applications of KSP 2222A Transistor
General purpose NPN transistor.
Can be used to switch high current (up to 600mA) loads.
It can also be used in various switching applications.
Speed control of Motors.
Inverter and other rectifier circuits.
Can be used in Darlington Pair.