An electronic device known as an oxygen sensor monitors the amount of oxygen (O2) in a gas or liquid under analysis. Oxygen sensors are also known as lambda sensors, where lambda stands for the air-fuel equivalence ratio and is typically represented by the symbol.
What is a Lambda Sensor?
A lambda sensor, to put it simply, measures the amount of oxygen in exhaust gases to make sure your engine is properly burning fuel.
The oxygen sensor or lambda sensor monitors the amount of unburned oxygen in the exhaust pipe. The air/fuel mixture in the combustion engine is adjusted using the sensor's output. The air-fuel ratio can be assessed using this sensor to determine if it is lean or rich.
Robert Bosch GmbH created the initial automobile Lambda Sensor in 1976. The first companies to adopt a lambda sensors were Volvo and Saab. By 1993, practically all gasoline-powered cars in Europe had this sensor installed.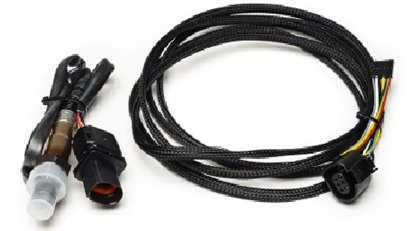 Working Principle of Lambda Sensor
The heating sensor and the heating sensor are the two components of a lambda sensor. The Lambda sensor's operating threshold ranges from 300°C to 600°C. The Lambda sensor is assisted in achieving its operating temperature by the heating sensor.
The sensor begins detecting the amount of unburned oxygen in the exhaust gases when the engine reaches the proper operating temperature.
The computer unit receives this output and uses it to compute the air-fuel ratio and verify the look-up table to maximize the air-fuel ratio. A calculated amount of gasoline needed by the engine to burn at a stoichiometric ratio is released based on this information, ensuring full combustion.
Two Lambda sensors are used in automobiles: one is positioned ahead of the catalyst converter, which regulates the system, and the other is installed behind the catalyst converter, which verifies the performance of the first one.
Applications of Lambda Sensor
The precise number of Lambda sensors in a vehicle varies on the vehicle's year, make, model, and engine. By preventing expensive CAT damage, lambda sensors (oxygen sensors) aid in enhancing the performance of the car. A good Lambda sensor can reduce a vehicle's fuel consumption by up to 15%.
For low fuel consumption, low pollutant emission, and checking exhaust emission readings, this sensor is very useful. With time, this sensor can become outdated and need to be replaced. Old sensors transmit data at extremely sluggish rates, which results in an incorrect air/fuel ratio in the catalytic converter. This causes the vehicle to operate improperly, consume more gasoline, and turn on the engine light.
Frequently descaling the sensor with hydrogen cleaning, the sensor's dependability, and performance can be enhanced. It is advised to frequently assess the sensor's condition. Name a particular car that contains four Lambda sensors.