A type of sensor known as a laser sensor employs laser technology to take measurements. Typically, it consists of laser, optical, and photoelectric components. It may turn measurable physical parameters (such as length, flow, speed, etc.) into optical signals.
Which can then be converted into electrical impulses using a photoelectric converter. To calculate the measured quantity, the output signals from the appropriate circuits can be obtained and then filtered, amplified, and rectified.
High brightness, great monochromaticity, and strong directionality are all attributes of laser technology. It is widely used for distance measuring, precision detection, positioning, etc., as well as length benchmarking and optical frequency benchmarking in the industrial and agricultural production, national defense and military, medical and health, and scientific research fields.
Different laser sensor setups are available, some of which detect presence and others which measure distance. Although it is frequently used to detect the existence of a part, a proximity type laser sensor—also known as a laser photoelectric sensor is not the subject of this discussion. The focus is on laser distance sensors, which, as their name suggests, measure distance, both metaphorically and literally.
These laser distance sensors gauge the distance to a target item using focused, coherent light. The goal in applications for factory automation is typically a machine component or a product.
They are capable of detecting any solid object and emitting a signal proportional to the measured distance, regardless of the item's substance, color, or brightness.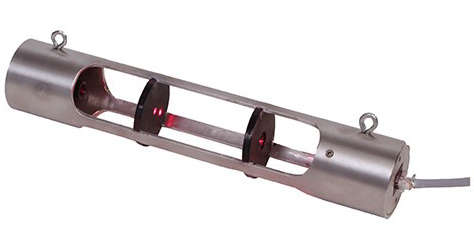 Laser distance sensors' high-resolution output is utilized to provide position or displacement, typically to the input of an industrial controller of some kind, like a PLC. The output signal frequently features high accuracy and temperature adjustment to improve stability.
There are various kinds of laser distance sensors, including retroreflective, diffuse, and background suppression. These sensors provide precise distance measurements using CMOS or transit time methods.
Laser light needs to be sharply concentrated to travel a long distance and maintain its restricted spectrum (color of light). Once the light has been released, it can be triangulated or pulsed, and the return from each pulse can be measured to produce distance values.
Working of Laser Sensor
The Triangulation Principle serves as the foundation for how all laser sensors operate. Some laser sensors are made for entirely black objects, while others are made for metal and polished items.
The usage of laser sensors is prevalent in many fields and applications, including industrial and agricultural output, military and national defense, medicine and health, and scientific research.
The sensor is made up of a laser, optical components, and photoelectric devices that use light to transform observed physical parameters like length, flow, speed, etc. into optical signals. From there, the optical signals are converted into electrical signals using a photoelectric converter.
Type of Laser Sensor
The two primary categories of laser sensors are laser displacement sensors and laser distance sensors. There are three types of laser displacement sensors: retro-reflective, through-beam, and reflective.
These models use the visible laser beam, but they employ various detecting strategies.
Laser Displacement sensors:
A laser displacement sensor makes precise, non-contact measurements using laser technology. It can be used to measure the position, displacement, and other changes of the target item and is composed of a laser, a laser detector, and a measurement circuit.
The movement, thickness, vibration, and other precise geometrical measures of the object can also be determined with this sensor. This sensor's operation is based on two techniques: laser triangulation, which is appropriate for high-precision, short-distance measurements, and laser echo analysis, which is appropriate for long-distance measurements.
Reflective, through-beam and retro-reflective laser displacement sensors are the three main varieties.
Reflective laser sensor:
This sensor, also known as a transmitter/receiver, consists of a laser light emitter and a receiver that detects laser light
The sensor first generates a laser beam to identify potential targets, which are subsequently detected using the reflected laser beam from the target object's surface.
Through Beam laser sensor:
Between a transmitter made of a laser light emitter part and a receiver formed of a light-receiving component of this sensor, an optical axis creates a signal beam.
By determining if the laser signal's beam, which the transmitter emits, is broken by the target, the sensor can identify the items that are being targeted.
Retro-reflective laser sensor:
There is a reflector inside of this sensor, and a signal beam is produced between it and the sensor. Sensors pick up the light reflected by the target object's surface when it blocks this signal stream, enabling the object to be identified.
Laser Distance Sensor:
A laser distance sensor measures the distance to the target by measuring the width of a focused light beam.
These particular laser sensors can measure the separations between any solid object and generate an output signal. The sensor's head is home to a light-emitting laser, a receiver lens, and a light-receiving (CMOS) chip.
The sensor emits a laser beam that strikes a target's surface and then collects the light that is reflected from it. The sensor can determine the change in target distance if there is a change in the location of the received light.
This technique creates a triangle from the laser beam's path from the light source to the light-receiving component's point of reflection from the surface of the measured target. As a result, it is referred to as the triangulation method.
The target's distance can be determined using methods for measuring absolute distance, such as pulse laser ranging and phase laser ranging, as well as micro displacement, such as triangulation laser ranging and interferometry laser ranging.
Applications of Laser Sensor
Expressway toll station for counting and protecting vehicles.
Over-limit recognition of vehicle width and height.
Measure the distance and position of the robotic paw when choosing a product to lift or place.
Measure the wire diameter.
Check the availability of goods and parts.
Measure the distance between 2 sheets.
Measure the height of stacked goods, measuring length in the wood and packaging industries.
Car control and safety.
Tiny hole detection.
Power tool control k.
Piece deviation control.
Detection of small parts.
Align the railway track.
Quality Control.
measure Brake rotor thickness.
Welding head position.
check the wood thickness.